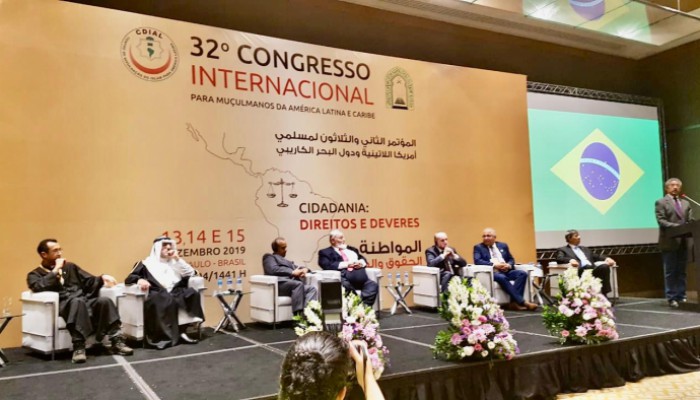 TWMCC participates in Conference For Muslims of Latin American and Caribbean States in Brazil
The World Muslim Communities Council delegate has, headed by Dr. Mohamed Bichari, Secretary-General, participated in the 32nd Conference for Muslims of Latin American and Caribbean States which takes place in São Paulo from Dec 13-15, 2019
In his opening speech, Dr. Bichari called for the re-arrangement of the internal foundation of Muslim communities to be protected from being penetrated, stressing that it is imperative that Muslims should find a common ground through a good institutional action and renewal of religious speech by securing an intellectual space full of vocabulary of peace, tolerance and cooperation with the opposed party.
He underlined that citizenship should be addressed and identified through symposiums and conferences with view to serving causes of co-existence and facilitating civilizational communication.
He claimed that there should be a holistic citizenship incubating varities reflected in most sublime standards of co-existence and harmony under the allegiance to the homeland through promoting intellectual and cultural values guaranteeing the foundations of mutual understanding and recognition of fundamental rights and obligations, suggesting that the interests of homelands are at the heart of the intents of religions and respecting the citizenship contract between citizen and State is a religious duty.
The activities of 32nd Conference for Muslims of Latin American and Caribbean States, which is organized by Latin America Islamic Da'awa Center, in cooperation with Ministry of Islamic Affairs, Da'awa and Guidance, under the slogan "Citizenship, Rights and Obligations".
Related Topics