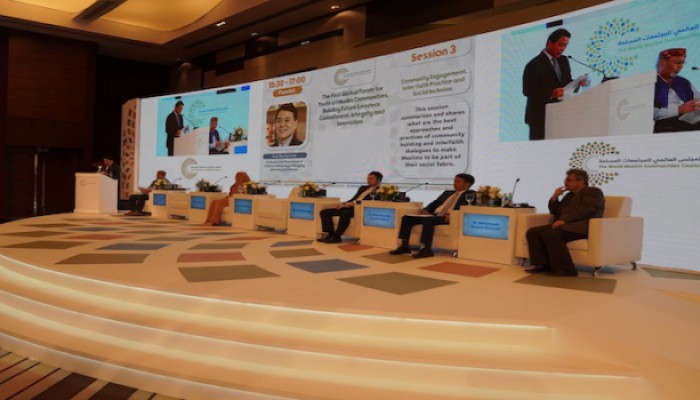 The conclusion of the first day's sessions of the first Global Forum for Youth of Muslim Communities
The first Global Forum for Youth of Muslim Communities entitled 'Preparing the Leaders of Tomorrow.. Commitment, Integrity and Innovation' was organized by the World Muslim Communities Council on the 7th and 8th of December 2019, has concluded the work of its sessions in the capital city Abu Dhabi, UAE.
Dr. Robert D Crane, Advisor to the late President of the United States Richard Nixon and the former deputy Director of the United States National Security Council in the USA has stressed the importance of giving the youth our experience.
Crane said at the first session of the forum entitled "How to be a future leader?" that the challenges that are facing young people at the moment are greater than the challenges that faced any previous generation. He added that we all can learn from young people because they face problems that may be their own and have not been faced by us before.
Dr Crane has stressed that the Industrial progress must continue away from politics or competition and recommended understanding the Sharia intends as an advisory function to manage the concepts; He stressed that the Individuals will not be educated unless they have sufficient awareness and love of God's truth and cosmic existence.
Her Excellency Rosy Sofia Akber, Minister of Education, Heritage and Art, Fiji, said for her part that education is very important in her country, saying "We in Fiji define our responsibilities according to the youth and we assure that no child is left behind, education is very important for us."
She emphasized that a leader cannot be built in one day, so education is very important for building future leaders; stressing that we have to explain to the students and give them reasons instead of intimidating them .. We in Fiji have laws prohibiting physical violence.
H.E. Abdul Hameed Mohamed Fowzie, Former State Minister of National Integration and Reconciliation in Sri Lanka has stressed that it is imperative to promote the enthusiasm and passion of young people and look at them as the greatest value that exists, they are the leaders of the future. He said that youth are the mainstay of the development of the countries of the world.. Our mission is to preserve the younger generation and provide them with a decent life.
He stressed also that we must launch many initiatives to support young people and enhance their capabilities, saying: "Sri Lanka is facing great challenges, and what we aim for is to have a government environment that supports young people."
H.E. Ibrahimov Isa Magomed-Khabievich, Minister of Youth in the Chechen Republic, said that his country has an aim today that youth be the leaders of the future; he emphasized that if you do not have sufficient education, you will not have a strong foundation ... Adding that we must provide young people with the best conditions for their development in all respects.
Dr. Ali Azam, Co-founder of the Virtue Ethics Foundation, United Kingdom, said on his part: "Human beings need freedom and we must exercise our sense of humanity freely; moreover, we promote equality, human sense and social justice to achieve satisfaction.
He emphasized that if we achieve social justice, we will achieve happiness, and this happiness will exceed anything else; explaining that young people must develop theories and formulate policies that achieve global social justice.
Mr. Ma Chao, Senior Editor and journalist, China Daily, Hong Gong in China, has said in the second session of the forum, entitled "Citizenship and Faith in the Age of new Media" that the number of Muslims in China exceeds about 23 million people according to the census in 2010.
He pointed out that the China's social media has helped increase convertibility and it brought Muslims together; explaining that the Islamic tradition and religion have been around for a long time in China because of the inculcating of mosques in social life. He added that the social media helped Muslim immigrants and played a major role in communication between them. These social sites can maintain and unite Muslims positively in the age of social networking, and it may also be a negative instrument at the same time.
For his part, Dr. Yuki Shiozaki, Associate Professor, School of International Relations, University of Shizuoka in Japan, has expressed his appreciation for the efforts made by the Emirati capital city Abu Dhabi to organize this conference; it has an important indication by focusing on youth issues and explained that the Japanese Muslim community is very small, with a total of approximately 100,000 people. Due to the increase in the number of foreign workers, there has been an increase in the number of Japanese Muslims.
He added that the Islamic religion is new to the Japanese citizens. The Japanese language did not use Islamic terms during the time, so we have to start teaching kids and be Muslims and Japanese at the same time.
Dr. Hamza Ali shah, Centre for Arab Progress-London, United Kingdom, has clarified that the number of Muslims in Britain is up to 4 million and they are an essential part of the community cohesion in the Kingdom. He added that Muslims must make greater efforts to integrate into society; otherwise integration will be very difficult; explaining that many young Muslims were born in Britain and held high positions; there is no contradiction between religion and affiliation. "Anti-Muslim ideas spread easily on the Internet, so we must do the same by broadcasting pro-Islam footages", he said.
Dr. Michael Ameen Kramer, University of Graz, Austria, said for his part that Austria is known for providing religious education for different faiths in schools. He added: "We all live on this planet and we as human beings have human dignity and no one has the right to harm anyone."
He emphasized that Modern social media allows us to produce content that brings us together.
Dr. Ali Belusen, Deputy Director of the Fund for the Support of Culture, Science and Islamic Education in Russia, has confirmed that Individuals in big cities do not go to the clergy but rather to the psychiatrist, whose religious knowledge may be very little. He explained that one of the negative implications of the Internet is the obfuscation of ethical practices and that we need religious psychologists as well as religious leaders to raise religious awareness.

In the third session entitled "Community Engagement, Interfaith Practices and Social Inclusion" Dr. Muhammed Ibrahim Mesbahi, Director of Education, Islamic College, United Kingdom, has stressed that the role of educational leadership is extremely important for dialogue between followers of different religions.
He said that Solutions must be presented to Problems; the glimmer of hope comes through education; stressing the need for education leaders to think outside the box in an unconventional way.
Prof. Hee Soo Lee, Professor in the Department of Cultural Anthropology of Hanyang University in South Korea, has explained that contrary to the general belief that Islam entered Korea in the 1950s, the history of Islam was through Korean relations with Muslims more than 200 years ago and there are documents proving the old commercial links between them. He said that many Muslims settled in Korea and were allowed to practice their own beliefs freely. He pointed out that the Muslim tries to interact with all Korean cultures through dialogue with other.
Dr. Ramil Gizzatullin, Dean, School of Sharia, Islamic University of Kazan in Russia emphasized on his part that Islam is the second largest religion in Russia today; adding that more than 4 thousand Muslim students learn from inside and outside the region in Tatarstan. He pointed out that the Bolgar Islamic Academy for Higher Studies was opened in 2017 and religious and moral education for young people is important for the Muslims of the Republic of Tatarstan.
Dr. Fatiha Azzarhouni, Co-founder of the Leiden Islam Academy, Leiden University, Netherlands, said that they have 950,000 Muslims and this represents 6 percent of the population of the Netherlands; explaining that students are now in need of learning about Islam because of politics, economics and others.
"We in the Netherlands teach Islam as scholars do through certain programs and courses, stressing the importance of education and the role of parents in educating their children and training them in dealing with non-Muslims.", she said.
His Excellency Dr. Ali Rashid Al Nuaimi, Chairman of the World Muslim Communities Council, has delivered a speech at the beginning of the start of the work of the first Global Forum for Youth of Muslim Communities in Abu Dhabi in which he said: "I welcome you to Abu Dhabi and we are pleased to attend this event, which is a hope for this nation and for the Muslims.
His Excellency stressed by saying: "We have in the United Arab Emirates a vision represented of not importing the crises of the past, but rather to live our reality and create our future, and this is what we invite you to do." He stressed that Islam calls us to tolerate non-Muslims and it would be preferable to tolerate each other first.
Dr. Al Nuaimi has explained that our young people face different challenges; we need to listen to them. The future is theirs ... Let us give them an opportunity to create the future by assuming their responsibilities.
The Chairman of the World Muslim Communities Council has added: "We are looking forward to a joint cooperation in order to find solutions to the problems of Muslims around the world. I would advise you not to recruit past crises but rather to benefit and build your communities, countries and religion according to what suits your needs and challenges.
The Forum serves as a platform that brings together community leaders, scholars, activists, artists, entrepreneurs and innovators to present and discuss new strategies, curricula and programs in order to conceptualize leadership development among Muslim youth in the world.
The World Muslim Communities Council based in Abu Dhabi, is considered a think-tank to rationalize organizations and associations working in Muslim communities to renew their thinking and improve their performance in order to integrate Muslim communities in their countries in a way that achieves the perfection of citizenship and membership of the Islamic religion.
Related Topics