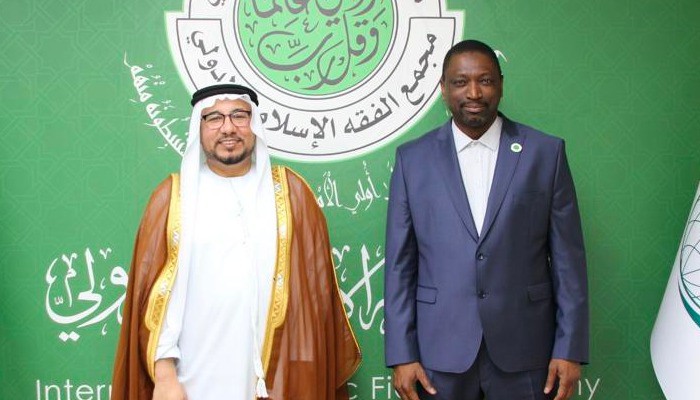 Secretary-General of International Islamic Fiqh Academy Receives Secretary-General of TWMCC
HE Dr Koutoub Sano, Secretary-General of the International Islamic Fiqh Academy received HE Dr Mohamed Bechari Secretary-General of The World Muslim Communities Council at the Academy's headquarters in Jeddah Saudi Arabia.

HE Dr Koutoub Sano welcomed the visit of HE Dr Mohamed Bechari who carried with him the greetings of HE Dr. Ali Rashid Al Nuaimi, Chairman of The World Muslim Communities Council, and his gratitude for the efforts made by the Academy under the leadership of its President, HE Sheikh Saleh bin Humaid and its Secretary-General, HE Dr. Sano, especially in the fields of various jurisprudence developments, including Concerning Muslim Communities.
The discussion also touched on the role of the Academy and the Council in rationalising religious discourse and immunising the members of Muslim Communities from currents of extremism. The two sides agreed to continue coordination between the two institutions to serve common goals, including achieving intellectual and cultural change in Muslim Communities in various countries of the world; It encourages its members to be true partners in building civilisation, advocates of peace, and pioneers of tolerance, coexistence, giving and what serves the common benefit of countries.
It is noteworthy that the International Islamic Fiqh Academy is a global scientific affiliated to Organisation of Islamic Cooperation (OIC), Its members consist of jurists, scholars, and sages in various fields of jurisprudential, cultural, scientific, and economic knowledge from different parts of the Islamic world to to study the problems of contemporary life and strive for it originally and effectively, to provide solutions that stem from the Islamic heritage and are open to the development of Islamic thought.
In the spirit of the message of Makkah Al Mukarramah, the Organisation of Islamic Cooperation has taken several legal and executive measures to set the legal and administrative framework to achieve the will of Muslim leaders by establishing an Islamic jurisprudence complex in which the jurisprudence of Muslim jurists and their wise men meet to provide this nation with the original Islamic answer to every question raised by the developments of contemporary life.
It is noteworthy that the World Muslim Communities Council is an international non-governmental organisation that was established on May 8, 2018. It is headquartered in Abu Dhabi and has more than 900 Islamic organisations and institutions from 142 countries under it. It is considered a house of expertise to rationalise organisations and associations operating in Muslim societies, renew their thinking and improve their performance. and coordination among themselves.
Related Topics