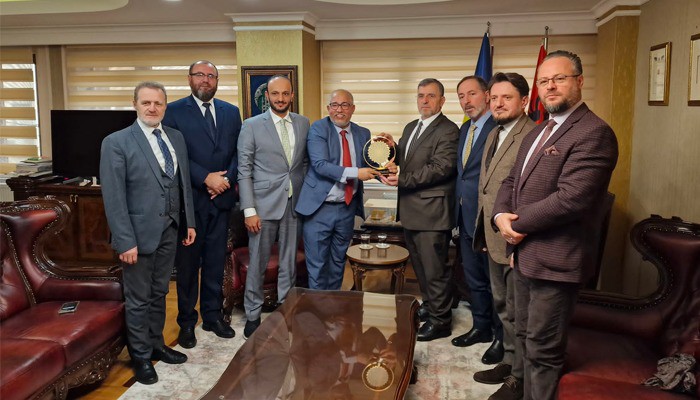 Grand Mufti of Republic of Kosovo Receives TWMCC Delegation
HE Sheikh Naim Tërnava, Grand Mufti and head of the Islamic Sheikhdom in the Republic of Kosovo, received a delegation of the World Muslim Communities Council, at the headquarters of the Islamic Sheikhdom in the capital, Pristina, on Friday, December 2.
During the meeting, the two parties discussed mechanisms for enhancing cooperation to serve Muslim societies, discuss coexistence issues, and emphasize the national state, citizenship, and integration. They also discussed the localization of the concepts of religious, ethnic, and cultural pluralism, in a way that achieves cooperation and solidarity for the benefit of nations worldwide.
The two parties also tackled ways to formulate scientific, academic, and rehabilitation programs to confront extremism and isolationism, through serious work to achieve contemporary jurisprudence within the tolerant Islamic Sharia, and in a manner consistent with the conditions of the members of Muslim communities in the countries in which they live. They also weighed up enhancing the positive role of Muslims worldwide.
The World Muslim Communities Council is an international non-governmental organisation established on 8 May 2018 in Abu Dhabi. It includes more than 900 Islamic organisations and institutions from 142 countries. It is a think tank for helping organisations and associations operating in Muslim communities, renew their thinking, improve their performance, and coordinate their joint work.
Related Topics