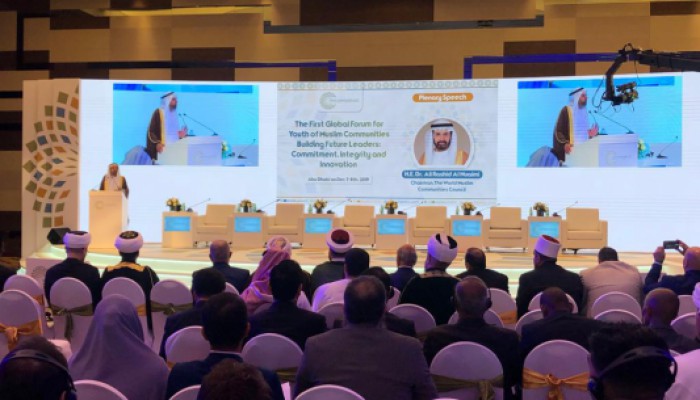 The Kick off of the First Global Forum for Youth of Muslim Communities in Abu Dhabi
On Saturday, the works of the first global Forum for Youth of Muslim Communities, organized by the World Muslim Communities Council, have been launched during the 07th and 08th of December 2019 in Abu Dhabi, the Emirati capital.

H. E. Dr. Ali Rashid Al-Nuaimi, Chairman of the World Muslim Communities Council, gave a speech at the beginning of the Forum, saying: "We welcome you all in Abu Dhabi and we are pleased to attend this event which is a hope for this nation and for Muslims as well."
He emphasized: "Our vision in the UAE is not to carry on the crises of the past, yet to live our reality and create our future, and this our main goal," and assured that Islam invites us to tolerate non-Muslims, and spread tolerance amongst each other.
H. E. Al Nuaimi stated that "The youth are facing wide challenges; and we have to give all what we have to them, they are the Future and they may shape it by undertaking their responsibilities"
The Chairman, The World Muslim Communities Council added: "We are striving for a joint cooperation to create solutions for Muslims' problems around the world. We strongly advise you to forget the past's obstacles but rather benefit and build your communities, countries and religion according to what suites your needs and challenges"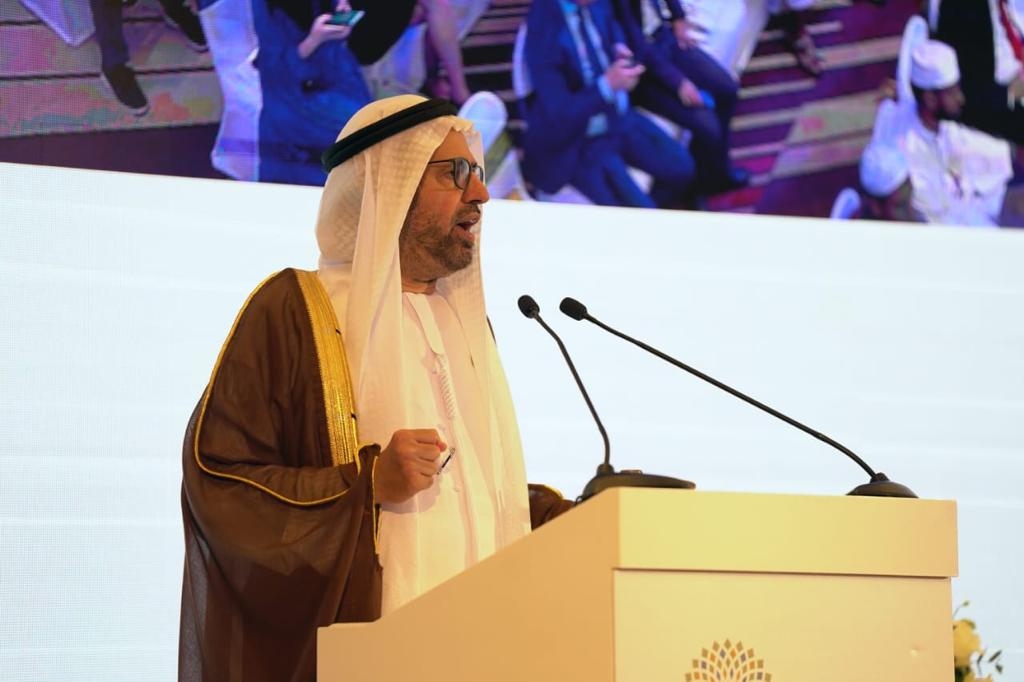 On his part, H.E. Dato Dr. Koutoub Moustapha SANO, Minister in the President Office and Diplomatic Advisor to the President, Presidency of the Republic of Guinea, also gave a speech in which he thanked the beloved UAE for organizing this timely and important Forum, assuring that youth are the main factor of promoting growth around the world; therefore, they deserve to have a bright future, since paying attention to young people and giving all what we have to them is our main goal in this Forum.
He emphasized, "Islam is the religion of persistence, honesty and integrity; it is against corruption and revolves around the behavior and attitude and the spread of tolerance amongst each other."
He stated that the Sharia taught us to stay away from common fatwas as they cause so many problems, assuring that common fatwas cause communities fragmentation, so each community has to find appropriate solutions that would perfectly suit it.
While H.E. Alyautdinov Ildar, Mufti of Moscow, the Russian Federation stressed that we must be masters of ourselves in order to lead others; therefore, we need to fill this gap by doing good deeds that would benefit us in this world and the hereafter.
He mentioned that recently we often hear about tolerance, cooperation and integration, it is pertinent to spread them amongst each other.
The first global forum for youth of Muslim communities is a platform that brings together community leaders, scholars, activists, artists, entrepreneurs and innovators to share, deliberate and envision new strategies, approaches and programs for leadership development among young Muslims worldwide.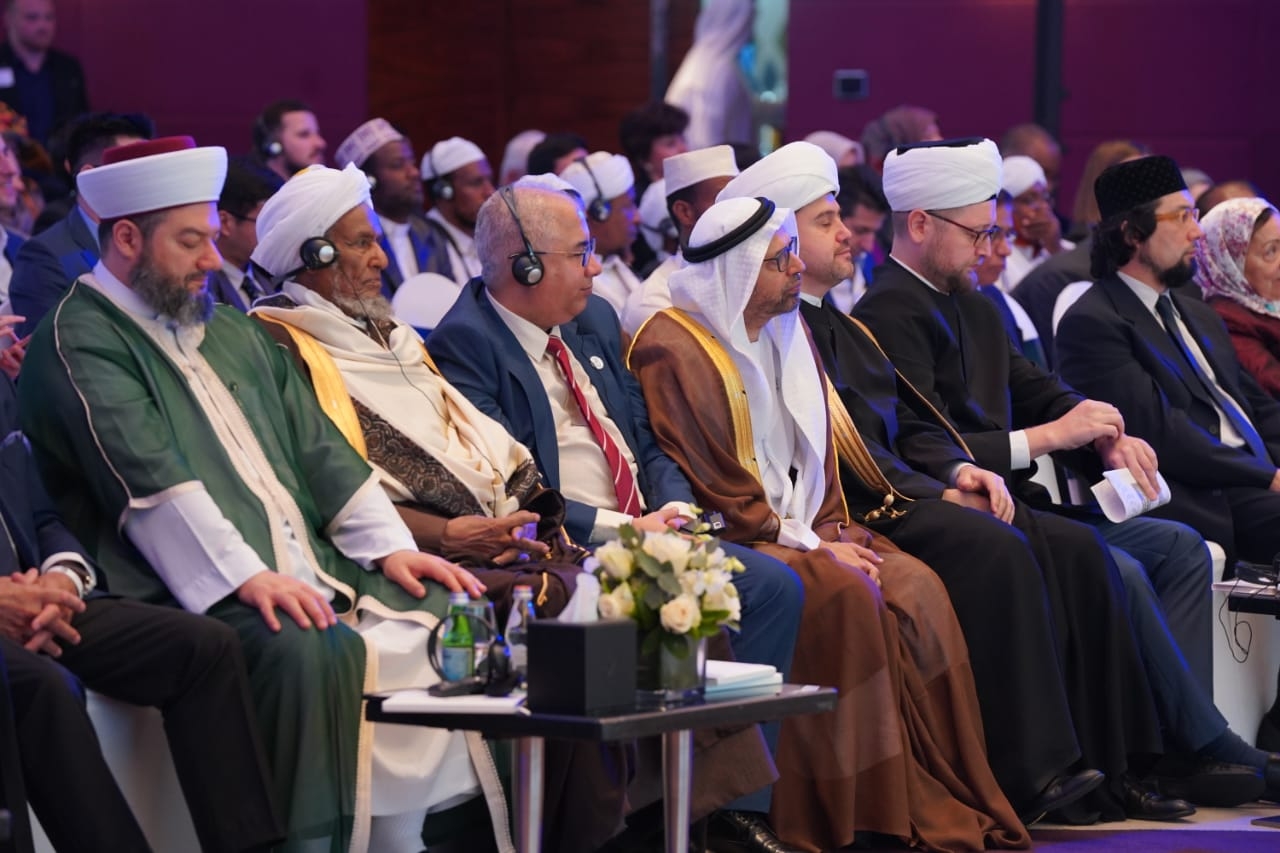 The following themes will be addressed through panel discussions, where the first session, entitled. "How To be a Future Leader"
explores what should be done to prepare future leaders among the young Muslims. The second session, "Citizenship and Faith in the Age of New Media" discusses the global outreach of social media which poses a potential risk for Muslim communities to keep them intact and coherent, in particular among young social media users. The third session, "Community Engagement, Inter-faith Practice and Social Inclusion" explores the engagement in community affairs and interfaith actions that can nourish great leaders for the future and the leaders grow in organized and harmonious environment.
The fourth one, "Updating the Software: New Approaches to Islamic Jurisprudence, Education, and Etiquette" focuses on Islamic civilization harmonized indigenous forms of legal practices, and educational philosophies and cultural expressions with the universal norms of its sacred law.
The fifth session, "Innovation, Entrepreneurship and Philanthropy: Building New Generation of Muslim Leaders" explores
The need for technological innovation, provided that it should be combined with active entrepreneurship and Islamic philanthropy.
The sixth session, "Inspiring Future Leadership: Stories of the Achievers" focuses on social impact-driven audiences' leaders and influencers and their contribution to achieving greater social influence.
World Muslim Communities Council, which has its headquarters in Abu Dhabi, is considered an incubator for expertise in order to guide organizations and social assemblies, working in Muslim societies, towards renewing their ideas and improving their performance in order to integrate Muslim communities in their countries in a way that would provide them with full citizenship and belonging to Muslim community.
Related Topics