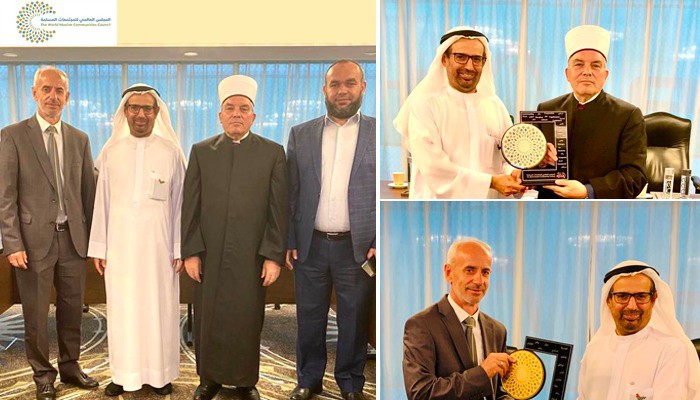 Chairman of World Muslim Communities Council Welcomes Head of Scholars and the Grand Mufti of Republic of North Macedonia
His Excellency Dr. Ali Rashid Al-Nuaimi, Chairman of the World Muslim Communities Council has welcomed His Eminence Sheikh Shaker Fattaho, Head of Scholars and Mufti of the Republic of North Macedonia, today, Monday. The meeting was attended by Sheikh Abidin Omar, Mufti of Kumanovo, North Macedonia, and Mr. Ismat Adami, External Relations Officer of the Islamic Federation of North Macedonia.
Al-Nuaimi has welcomed the delegation's visit to the United Arab Emirates, wishing this visit would contribute to strengthening relations and consolidating joint efforts to consolidate the values ​​of tolerance and coexistence among Muslim societies to achieve good and peace for all humanity.
The meeting discussed the positive role of Muslim communities in their countries, especially during the outbreak of the Corona, in addition to strengthening cooperation between the two parties, to consolidate common human values ​​and spread the principles of moderation, belonging to the homeland, respecting the law, dialogue and coexistence with other religions and cultures. At the end of the meeting, an exchange took place, including a number of commemorative shields
Related Topics