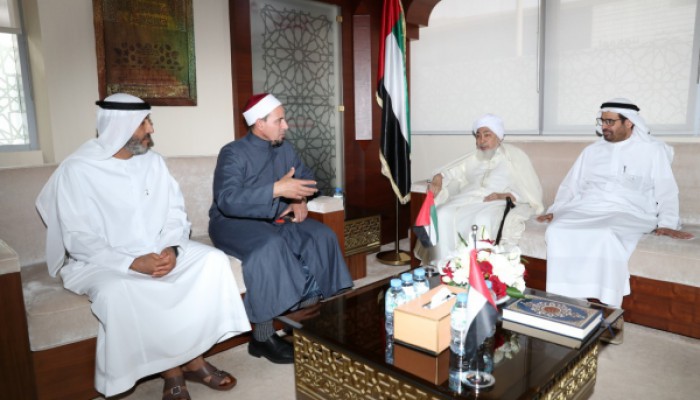 Abdallah bin Bayyah receives Imam of Al-Nour Mosque in Christchurch New Zealand
Sheikh Abdallah bin Bayyah, the chairman of the Forum for Promoting Peace in Muslim Societies and the Chairman of the UAE Religious Verdict Council, has received today Sheikh Gamal Fouda, Imam of Al-Nour Mosque in Christchurch, New Zealand, in the presence of HE Dr. Ali Rashid Al-Nuaimi, Chairman of the World Muslim Communities Council and HE Dr. Mohammed Matar Al Kaabi, Chairman of the General Authority of Islamic Affairs and Endowments (GAIAE).
HE Sheikh Abdallah bin Bayyah welcomed Imam of Al Noor Mosque and expressed his deepest condolences once again to the people of New Zealand regarding to the terrorist attack in Christchurch and praised the New Zealand government's professional handling of the events.
Bin Bayyah has stressed the need to combat the hate speech and disseminate the values of love, goodness and peace, which address the common sense as the basis of the Islamic religion, pointing out that the terrorist acts, regardless of its source, run counter to the common sense.Terrorism has no faith.
He added that the UAE's approach, which was assiduously enhanced its standing by His Highness Sheikh Zayed bin Sultan Al Nahyan, may God rest his soul in peace, and the leadership of the wise state works that way, is based on promoting tolerance, believing in authentic values and understanding the spirit of the times.
He said "We shall not abandon the Muslims of New Zealand, we shall not shrink from what benefits them and we shall not be found wanting in their rights."
His Excellency stressed the UAE's keenness to promote the values of tolerance and peace through its various institutions, notably the Peace Promotion Forum, the World Muslim Communities Council and the Council of Muslim Sages.
For his part, Imam of the Al-Nour Mosque in Christchurch, New Zealand thanked the UAE for its honourable attitude with Muslims of his country following the tragic event that they were subjected to in a callous terrorist attack.
He pointed out that the state was the first to check up on the situation of Muslims in New Zealand immediately after the accident of Christchurch, noting that the first contact he has received after the incident was from the UAE Ambassador in New Zealand.
A delegation from the UAE headed by Dr. Ali Rashid Al-Nuaimi visited the New Zealand city of Christchurch on the 20th of the last March, which witnessed a bloody terrorist attack on two mosques during Friday prayers and killed dozens.
The visit was an expression of the solidarity expressed by the UAE leadership and its people with the people and the Government of New Zealand and stand with them towards all measures taken for the maintenance of its security and stability and the safety of the residents in its territory.
The delegation commended the efforts made by the New Zealand Government headed by Prime Minister Jacinda Ardern.
Related Topics