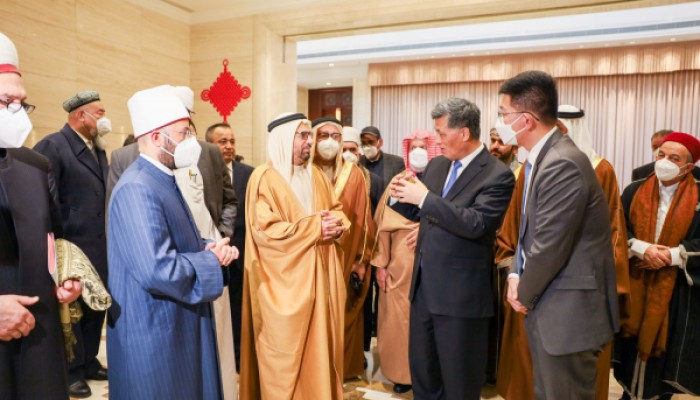 Chairman of TWMCC: Relationship Between Islamic Civilisation and China is Historical and Characterised by Friendship, Cooperation and Alliance
HE Dr Ali Rashid Al Nuaimi, Chairman of The World Muslim Communities Council, met with officials from China's Xinjiang region on the sidelines of his visit to China.
HE Dr Ali Rashid Al Nuaimi headed the Council's delegation, which included clerics and intellectuals from various countries worldwide, including UAE, Egypt, Syria, Bosnia, Serbia, Tunisia, Albania, Saudi Arabia, Bahrain, Kuwait, and South Sudan.
HE hailed the efforts of the Chinese authorities in combating terrorism in Xinjiang and praised the interest and determination of the Chinese leadership to serve all people in the region.
The Chairman of TWMCC added that the relationship between Islamic civilisation and China is historical and characterised by friendship, cooperation and alliance. HE pointed out that wise people all over the world need a safe, stable and prosperous China, especially since China's security and stability are not only a national interest but a global interest.
HE Dr Ali Rashid Al Nuaimi emphasized that caring for Muslims in China is a great necessity, and we must make it clear to the world that ethnic, religious and national affiliations do not conflict but complement each other.
The Chairman of TWMCC stressed the necessity for a national framework to be comprehensive and brings together all identities, and pride in identity, religion and belonging must be reinforced by the educational curriculum.
HE pointed out that Uygur youth need persuasive speech to win their minds to not fall prey to terrorist groups.
Related Topics