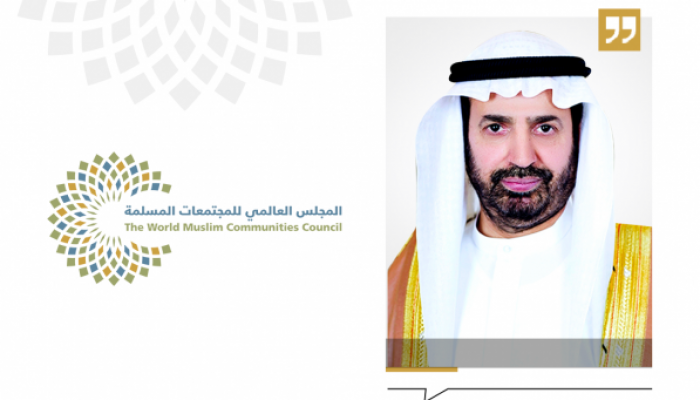 A virtual conference of the World Muslim Communities Council entitled "Protecting Humanity... Interfaith Solidarity and Joint Action to Combat Coronavirus"
On Wednesday , April 22, 2020, the World Muslim Communities Council will organize its virtual conference: "Protecting Humanity... Interfaith Solidarity and Joint Action to Combat Coronavirus", from 16:00 to 20:00 Abu Dhabi time, via … app.

His Excellency Dr. Ali Rashid Al-Nuaimi, Chairman of the World Muslim Communities Council, pointed out the importance of the conference, with "the growing challenges facing humanity at the beginning of the third decade of the third millennium, such as the conflicts of ideologies, and spread of pandemic and new diseases". He affirmed, "Under these circumstances, people have a common and unprecedented feeling to face new global challenges, and to take joint actions to find appropriate solutions, through coordination and cooperation between civilizations, nations and societies, by functioning religion and science."
Dr. Al-Nuaimi added, in an exclusive statement, that "by organizing this online conference, the World Muslim Communities Council, along with religious leaders, scholars, thinkers and statesmen, call for global participation to put forward joint measures to improve the conditions of life and achieve a peaceful life for people during these global crises.
The World Muslim Communities Council stresses that by raising awareness, developing practical solutions, and committing to taking the necessary measures, scholars, religious leaders, and educators can play an important and mutual role in preserving humanity and improving conditions for a decent living. As the previous crises demonstrated, the religious and scientific circles are the pillars of spiritual and physical health of the human, and they have contributed greatly in facing major human problems and crises.
The conference also aims to involve the religious circles, international institutions and non-governmental organizations as well as research centers and educational institutions from all around the world to discuss the current global problems facing our human race, and to find solutions for it.
Themes and sessions
The conference begins with an opening speech by His Excellency Dr. Ali Rashid Al Nuaimi, Chairman of the World Muslim Communities Council.
The conference introduces several themes in discussion panels. The first session entitled "Impressive Examples and Inspiring Stories", which show positive stories that give hope and provide an example that should be followed to deal with the current situation. In this session, we will see and listen to inspiring stories of religious leaders, professionals, philanthropists and volunteers, whose contributions in their fields have had a great impact on making change and hope.
The second session will discusses "Role of Religious Circles in Tackling Local Problems". Here we will know about the effective and sustainable role of religious circles in solving problems related to the spread of pandemics and diseases in their societies, where representatives of religions and beliefs such as Islam, Christianity, Buddhism, Hinduism, Confucianism and others, will suggest solutions to common problems and will exchange ideas about them.
The third session is entitled "Worships During Pandemic and Infectious Diseases." Several questions arise here, such as, how can religious leaders and scholars deal with this situation while continuing devotional activities? How can places of worship consider government safety and prevention measures while maintaining regularity of devotional activities?
The fourth session, "Adhering to the Spirit of Humanity: Tolerance, Compassion and Solidarity", presents the impact of this crisis in creating an opportunity for humanity to share feelings of pain and solidarity, and how can humanity today stand and reflect on this global crisis? This virus is a threat to all humanity, regardless of their beliefs, sects, ethnicities, or nationalities. Therefore, this session is an opportunity to invite leaders and followers of different religions to arm themselves with the values of tolerance, solidarity and cohesion in order to increase awareness, and take the necessary measures to protect those affected by this virus wherever they are.
The sessions will conclude with a speech for the Chairman of the World Muslim Communities Council.
Related Topics