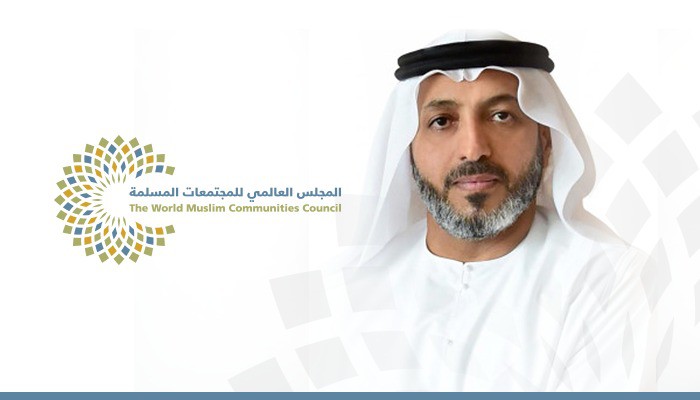 In the virtual symposium "The Prophet's Immigration" .. Dr. Muhammad Matar Al-Kaabi: Immigration confirms that Islam is a message of stability and peace
In partnership with the World Council of Muslim Communities, the Supreme Islamic Council in Australia (Dar Al Fatwa) organized, today, Saturday, August 22, 2020, a virtual seminar entitled "The Prophet's Immigration", in which Dr. Muhammad Matar Al Kaabi, President of the General Authority for Islamic Affairs and Endowments in the UAE, as a speaker, with the participation of about 200 people.
His Excellency Dr. Muhammad Matar Al-Kaabi said, in a symposium attended by a number of scholars from more than 20 countries from Southeast Asia, Australia, New Zealand, Africa and Latin America: "I convey to you the greetings of the leadership of the United Arab Emirates," stressing that the noble emigration is a fragrant memory and a focal point. To inspire the lofty values ​​and the noble principles of our true Islamic religion by promoting the values ​​of tolerance with all societies, as the Prophet Muhammad (PBUH) indicated in his honorable emigration that Islam is a message of stability and peace.
Al-Kaabi added that the prophetic migration came to us while we were in need of unique connotations and great meanings. The one who contemplates immigration finds that anticipating the future is an integral part of the prophetic approach, and that with peace, love prevails and coexistence between Muslims and others is achieved, so society becomes a cohesive structure, recalling the merit of the historical document that The Prophet wrote it as a historical document of coexistence between Muslims and others through the promotion of freedom of belief.
He explained that the UAE is doing its best for a world dominated by love, as it embraces more than 200 multiple nationalities that work together for civilized advancement, as it criminalizes insulting religions and beliefs or discrimination between people, and has launched many positive initiatives in this regard.
The head of the General Authority for Islamic Affairs and Endowments confirmed that the UAE translated the words into actions by announcing the courageous and wise decision to conclude a peace treaty between the UAE and Israel, in exchange for Israel halting the plan to annex the Palestinian territories, as well as allowing Muslims to pray in the Al-Aqsa Mosque, and promoting peace in the entire region.
In his speech at the symposium, Sheikh Dr. Salim Alwan, Secretary General of Dar al-Fatwa in Australia, said that the noble Prophet's migration loomed over us with its lush shadows. Cowardice, escaping, not seeking comfort, not abandoning the call, but in compliance with the command of God Almighty.
Alwan added: "As we read the story of the blessed immigration, we need to understand its implications and through it, and take from it what illuminates our path and nourishes our generations that are hungry for knowledge and pure culture."
Related Topics