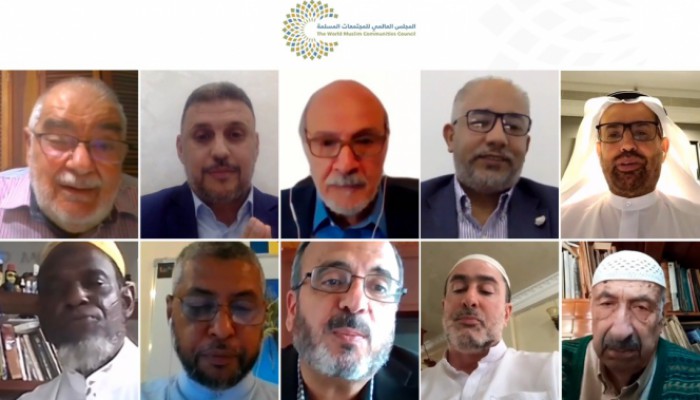 "Role of Islamic Institutions in Achieving Spiritual Peace" Calls for Programs that Focusing on Spiritual Aspect
The World Muslim Communities Council, in cooperation with based Argentinian the Islamic Organization of Latin America and Caribbean, organized, on Sunday, October 18, 2020, the virtual conference "Role of Islamic Institutions in Achieving Spiritual Peace", with the participation of scholars, clerics and imams.
In his opening speech to the conference, His Excellency Dr. Ali Rashid Al-Nuaimi, Chairman of the World Muslim Communities Council, said that it is important to achieve spiritual peace for individuals through daily behaviors, calling on Islamic institutions to assume their responsibilities in caring and guiding Muslims in their communities, and caring for with spiritual peace for youth. He is explaining that spiritual peace are among the basic issues for individuals in direct connection with Allah and His Messenger, not to forget the relationship with others within the framework of faith.
His Excellency called for the necessity of creating programs and initiatives that focus on the spiritual aspect, enhance the sense of peace and love, and achieve the inner peace required, in order to reach the level of the ihsan in worshiping Allah, and adhere to the teachings of true religion.
Dr. Muhammad Bachari, Secretary-General of the World Muslim Communities Council, said that the establishment of the United Nations, as an international system, to prohibit war and to achieve international peace and security, makes the terror forbidden legally. He is affirming that peace advocating for it, and spreading its value system in Muslim societies, has become the duty of Islamic institutions today, to achieve the overall objectives of Islamic law, as well as fulfilling promises that begins with respecting the country's laws and establishing social justice by pushing injustice, and confronting racism and hatred. Buchari is explaining that our task today is a continuous industry for a culture of peace, acquaintance and spreading the values ​​of love and tolerance.
Dr. Mohamed Youssef Hajar, Secretary-General of Argentinian based the Islamic Organization of Latin America and the Caribbean, affirmed that in light of the vacuum that the world suffers from, Islam offers satisfaction, tranquility, solution to all life's problems, the need to work with various societies and dialogue with institutions and governments, and to seek the support of leaders, and to help all societies without neglecting Muslim communities.
Hajar stated that they are spreading the word of Islam to reach all people, as the number of Latin American and Caribbean Muslims is about 5 million citizens and immigrants, outlining the challenges of Latin American and Caribbean Muslims in the lack of religious knowledge, neglecting religious practices, and the absence of Islamic resources in the Spanish language.
Dr. Abdel Fattah Saasa, President of the Association of the Islamic Cultural Center in Costa Rica, gave a historical overview of the history of Islam in Costa Rica since 1994. He said that there is one mosque, a school for children, and an imam devoted to teaching children the values ​​of Islam, stressing that the Muslim community in Costa Rica has played an important role in society, especially in the health field, and has excellent relations with local governments, society and other religions in spreading peace, and has been able to reach Muslims and provide them with aid, and has provided assistance to thousands of people in cooperation with the government, in addition to communicating with everyone in a brotherhood and love.
Dr. Ahmed Tayel, head of the Abu Bakr Al-Siddiq Mosque in Colombia, also touched on the basics of dialogue with non-Muslims, namely not focusing on differences but the common points as mentioned in the sacred religious texts, affirming that our noble Prophet (PBUH) taught us that human beings are brothers, called us to work with others, to remove the manifestations of injustice, inequality and other problems that unite us. He said that the Muslim community in Colombia cooperates with presidents, organizations, local governments and various stakeholders within institutional programs, explaining that they are not focusing on the intellectual side only, but rather on concrete actions to serve humanity as a whole.
It is noteworthy that the World Muslim Communities Council is an international non-governmental organization, headquartered in the UAE capital Abu Dhabi. It is considered a think tank to rationalize organizations and societies working in Muslim societies, renew their thinking and improve their performance in order to achieve one goal; The integration of Muslim societies in their countries, in a way that their members realize the perfection of citizenship and complete affiliation with the Islamic religion.
The council seeks, through holding dozens of virtual conferences, seminars and activities, to localize the concepts of religious, ethnic and cultural pluralism, in a manner that preserves human dignity and respect for his beliefs, and establishes the values ​​of moderation, dialogue, tolerance and belonging to the homelands.
Related Topics