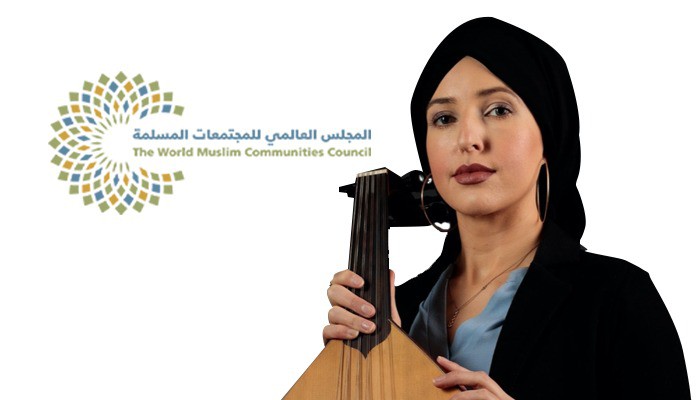 Singer Jennifer Grout: Quran Connects us with Allah and Strengthens our Spiritual Tie
The World Muslim Communities Council hosted on Thursday, November 19, 2020, the American singer and reciter Ms. Jennifer Grout, in a virtual lecture entitled "My Journey to Musical Art, Quran Recitation, and Islamic Spiritualities", via the Council's social media pages.
Ms. Jennifer Grout pointed to the existence of a relationship between music and recitation, as well as the similarity between sounds, maqams and tones. She said that to know the patterns of reading the Qur'an is based on your knowing certain maqams, their development and specific structure of recitation with which our souls sing to attract others and arouse their interest. She is affirming that the Qur'an connects us with Allah Almighty, calling us to listening and contemplating the words of Allah to strengthen our spiritual connection with Allah.
Grout explained the importance of music and sound, saying that sound is energy and vibration affects all parts of our body, which drives us to know the meanings of words, because the sound touches the soul from within and creates something logical, interesting and influential, so when the vibrations overwhelming our bodies and souls, it moves us to another emotional and spiritual world.
She added, "Music is part of communication, and it is the language, culture and life that I grew up with since my childhood. Music is the feelings that touch the soul from the inside, it is bringing souls together".
Ms. Jennifer Grout emphasized that we can explore ourselves, know it, enhance the spiritual core and share our experiences through art, we can also do important, positive and useful things during these difficult times. She said that voices have the potential to recover our crises.
Jennifer Grout spoke about her influence by African Sufi music, Moroccan "Gnawa" music, Maqam al-Bayati, and Muhammad Siddiq al-Minshawi.
It is noteworthy that the World Muslim Communities Council is an international non-governmental organization, headquartered in the UAE capital Abu Dhabi. It is considered a think tank to rationalize organizations and societies working in Muslim societies, renew their thinking and improve their performance in order to achieve one goal; The integration of Muslim societies in their countries, in a way that their members realize the perfection of citizenship and complete affiliation with the Islamic religion.
The council seeks, through holding dozens of virtual conferences, seminars and activities, to localize the concepts of religious, ethnic and cultural pluralism, in a manner that preserves human dignity and respect for his beliefs, and establishes the values ​​of moderation, dialogue, tolerance and belonging to the homelands.
Related Topics