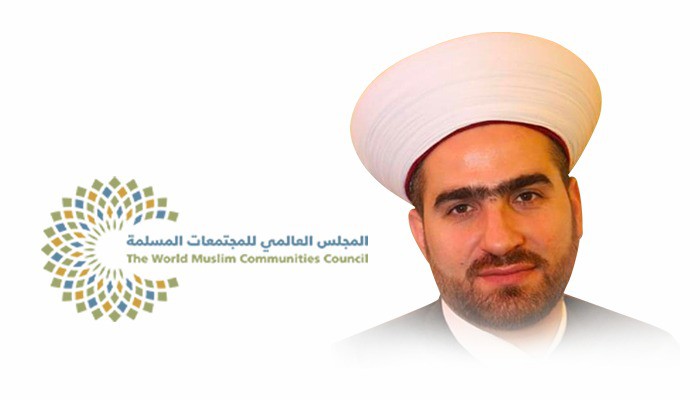 Sheikh Ali Al-Khatib: Noble Prophet Establishes Muslim Society on Values of Goodness, Peace and Tranquility
His Honorable Sheikh Ali Dib Al-Khatib, the representative of the Lebanese Dar Al-Fatwa in Brazil and Latin America, congratulated Muslims on the occasion of the anniversary of the Prophet's birth, stressing that it embodied the whole Islam, so when we celebrate his birth, we celebrate the birth of Islam. He said, in a virtual lecture organized by the World Muslim Communities Council, on Wednesday, October 28, 2020, entitled "Birth of the Prophet of Mercy", via the Council's social media pages, that the noble Prophet established a Muslim community whose pillars are goodness, peace and tranquility
Sheikh Al-Khatib cited the Qur'an : "We sent thee not, but as a Mercy for all creatures" to confirm that the Holy Book is full of mercy, and that the Holy Prophet is a mercy for all mankind, explaining that the prophets are a mercy for humanity, and Mohammed (PBUH) is the master of mercy on the earth.
The representative of the Lebanese Dar Al-Fatwa in Brazil and Latin America listed some aspects of the greatness of the mercy of the Holy Prophet (PBUH), which pervaded the worlds and all aspects of life, whether in his private dealings or with his wives, children, society or even his enemies, saying that the Holy Prophet brings together the warring tribes, to be a lamp for mankind, guide to the right ways, straightener for mistakes, and an example of mercy for animals, plants and the environment.
Sheikh Al-Khatib called on Muslims to arm themselves with knowledge, correct their deeds and relationships, take knowledge from its true sources, coexist in diverse multiple societies, and preserve the pure and sound belief. He is concluding that belonging to religion does not conflict with love and loyalty to the homeland.
It is noteworthy that the World Muslim Communities Council is an international non-governmental organization, headquartered in the UAE capital Abu Dhabi. It is considered a think tank to rationalize organizations and societies working in Muslim societies, renew their thinking and improve their performance in order to achieve one goal; The integration of Muslim societies in their countries, in a way that their members realize the perfection of citizenship and complete affiliation with the Islamic religion.
The council seeks, through holding dozens of virtual conferences, seminars and activities, to localize the concepts of religious, ethnic and cultural pluralism, in a manner that preserves human dignity and respect for his beliefs, and establishes the values ​​of moderation, dialogue, tolerance and belonging to the homelands.
Related Topics