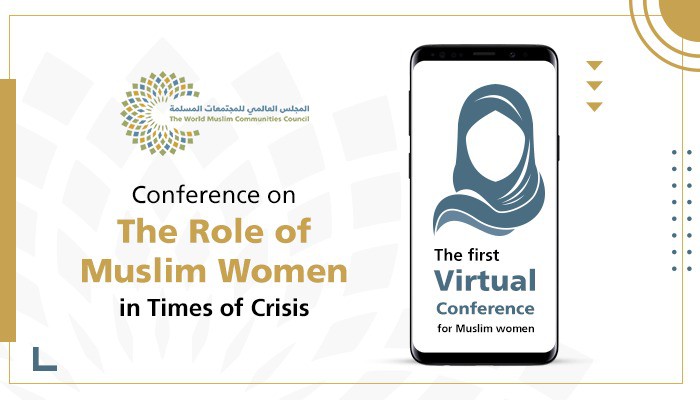 The World Muslims Communities Council organizes its virtual conference "Role of Women in Muslim Societies in Times of Crisis"
The World Muslim Communities Council organizes its first virtual conference for women entitled "Role of Women in Muslim Societies in Times of Crisis", on July 4, 2020, with the participation of about 100 women activists in Muslim societies, Islamic academies, researchers, and women's feminist institutions from all over the world, and in several languages, through "Zoom" platform the Council's social media pages.
The importance of the conference comes from looking at the crises and wars that humanity has gone through, some of which have left millions of victims, between dead and sick. We are also witnessing the outbreak of COVID-19 in all countries of the world, and the death and destruction that it caused. Believing in the importance of the women role in dealing with the effects of these crises besides her male brother, states, governments and organizations have sought to activate this role so that peace, security and stability prevail in the world. Proceeding from the World Muslim Communities Council goals, especially those related to activating the role of Muslim women in Muslim societies, which states "the rehabilitation of families, women, youth and children in the citizenship education, to be pride in their national, cultural and religious identity, and contribute to the development of their societies".
His Excellency Dr. Ali Rashid Al-Nuaimi, Chairman of the World Muslim Communities Council, pointed out that the conference seeks to achieve several goals, including emphasizing the role of Muslim women in assuming social responsibility alongside their brothers, in addition to setting appropriate strategies for each country that coordinate between the relevant institutions in all aspects of life, especially those concerned with women and youth issues.
The conference abound in several sessions, such as the desired role of Muslim women in times of crisis, confronting currents of hatred and racism, dialogue between religions and civilizations, "school education remotely for children": its problems and methods, relief and humanitarian work and the health sector, and how to contribute in spreading awareness of the seriousness of pandemic outbreaks, initiatives and projects, as well as preparing community leaders to embody national cohesion in the face of crises.
It is noteworthy that the World Muslim Communities Council is an international non-governmental organization, headquartered in the UAE capital Abu Dhabi. It is considered a think tank to rationalize organizations and societies working in Muslim societies, renew their thinking and improve their performance in order to achieve one goal; the integration of Muslim societies in their countries, in a way that their members realize the perfection of citizenship and complete affiliation with the Islamic religion.
Related Topics