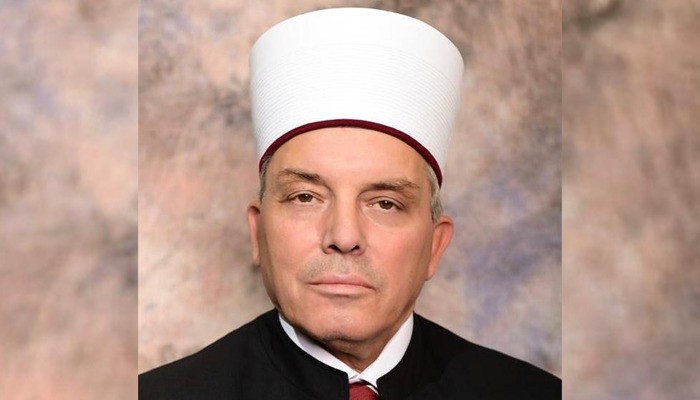 Mufti of Republic of North Macedonia Joins General Secretariat of World Muslim Communities Council
On Tuesday, October 6, 2020, the World Muslim Communities Council announced the joining of His Eminence Sheikh Shaker Fattaho, Head of Scholars and Mufti of the Republic of North Macedonia, to the membership of the Council's General Secretariat.

His Excellency Dr. Ali Rashid Al-Nuaimi, Chairman of the Council, welcomed the admission of Fattaho to the Council, stressing that this will contribute to the service of Muslim societies and promotes the values ​​of tolerance, peace and coexistence between all religions, races and nationalities, in order to advance the conditions of Muslims and achieve the Council's goals of resolving the contradiction between belonging to religion and loyalty to the homeland, and this requires coordination between the institutions active in Muslim societies in their countries, and the exchange of experiences and coordination between them with the aim of positive integration and the interest of the homeland.
His Excellency added that Sheikh Shaker Fattaho enjoys a good career, abundant knowledge and great experience in leading Muslims, and has a long experience in Islamic and Fatwa studies, in addition to his great role in consolidating the foundations of Islamic culture and interfaith dialogue in his country and the world.
Sheikh Shaker Fattaho was born in 1959 in the city of Gostivar, North Macedonia. He was worked as a professor of Islamic studies, general belief and philosophy, then appointed Director of the Islamic Science and Culture Sector in the Islamic Union of the Republic of North Macedonia. In 2001, he was elected Mufti of the city of Gostivar.
Fattaho published number of books, including more than six books in the Islamic studies, and dozens of articles. He has good experience and knowledge in comparative science and interfaith dialogue with regard to peace, tolerance and coexistence.
Sheikh Shaker Fattaho also founded the Islamic High School for Girls in Gostivar, and established the Institute for the Memorization of the Holy Qur'an under the name "Al Hafiz Hassan Efendi Zandili". He has won many decorations, including the "Wehbe Debra" Medal, and the International Academy of Social Sciences in Palm Beach, Florida, USA.
It is noteworthy that the World Muslim Communities Council is an international non-governmental organization, headquartered in the UAE capital Abu Dhabi. It is considered a think tank to rationalize organizations and societies working in Muslim societies, renew their thinking and improve their performance in order to achieve one goal; The integration of Muslim societies in their countries, in a way that their members realize the perfection of citizenship and complete affiliation with the Islamic religion.
Related Topics