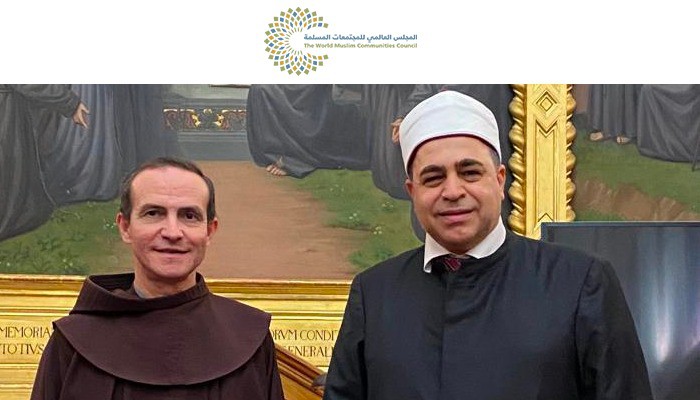 The World Muslim Communities Council Discusses Role of Marian Academy in Promoting Islamic-Christian Dialogue
O Tuesday, November 3, 2020, the World Muslim Communities Council organized virtual conference entitled "Role of Pontifical International Marian Academy in Promoting Islamic-Christian Dialogue", in which Father Stefano Cecchin, President of the Pontifical International Marian Academy in the Vatican, and Dr. Nader Al-Akkad, Chairman of the Global Christian Christian Marian Committee, spoke via the council's social media pages.
In his speech, Father Stefano Cecchin gave an overview of the Marian Academy that brings together scholars and specialists in Marian studies, stressing that the character of the Virgin Mary works as a model for Christian-Islamic dialogue. She is believed in her Lord and obeyed him, and promoted love and peace between Muslims and Christians. She is a sacred image of a tender mother which protects her children in hard times, as well as an inclusive image of the new Jerusalem.
He added: "The Papal message strengthens our Academy and consolidates the culture of coexistence, brotherhood and joint dialogue. We all share one God, so we are brothers in spreading peace. What distinguishes us is the spiritual connection." He is calling for the establishment of an international day for fraternal dialogue between Muslims and Christians, and proposed to launch a Marian corner in mosques called "Mihrab of Mary".
The President of the Pontifical International Marian Academy explained the ways of coexistence between the two great religions, Islam and Christianity, by preparing studies to introduce Mary and Islam, and highlighting positive qualities such as peace and love, saying that Islam is a religion of peace and a message of coexistence and love, and that Christians always point out that Mary is mentioned in the Holy Quran.
Father Stefano spoke about the "Rutab of Mary" initiative that was held in the Italian capital, Rome, in the blessed month of Ramadan. He is stressing that it was a joint action and a dialogue between Islam and Christianity that took place in the commemoration of Mary and her son Jesus (peace be upon him) when they eating dates under the shade of a palm tree. Be said this commemoration work as an opportunity to meet, share breakfast, and read Surah Maryam.
Dr. Nader Al-Akkad, head of the International Christian Muslim Marian Committee, indicated during his speech that the committee began its idea to be a common model for dialogue between Islam and Christianity, by seeking to spread the idea of ​​dialogue and communication between the two religions, and to promote coexistence. He is stressing that the Virgin Mary is the image of the mother in Christianity, and symbol of compassion, mercy and protection at a time of difficulties.
He added, "Rutab Mary and Mihrab Mary are an initiatives that promote love and joint fraternal dialogue. We seek to achieve dialogue, acquaintance and common goals on the International Day of Fraternal Dialogue."
Dr. Al-Akkad emphasized that "we have an historical message that calls for the spread of the Muslim-Christian fraternal dialogue, which find its expression in many activities". He is explaining that they requested to publish the "Human Fraternity" document in universities, and that the Pontifical Academies included the document among its foundations.
It is noteworthy that the World Muslim Communities Council is an international non-governmental organization, headquartered in the UAE capital Abu Dhabi. It is considered a think tank to rationalize organizations and societies working in Muslim societies, renew their thinking and improve their performance in order to achieve one goal; The integration of Muslim societies in their countries, in a way that their members realize the perfection of citizenship and complete affiliation with the Islamic religion.
The council seeks, through holding dozens of virtual conferences, seminars and activities, to localize the concepts of religious, ethnic and cultural pluralism, in a manner that preserves human dignity and respect for his beliefs, and establishes the values ​​of moderation, dialogue, tolerance and belonging to the homelands.
Related Topics