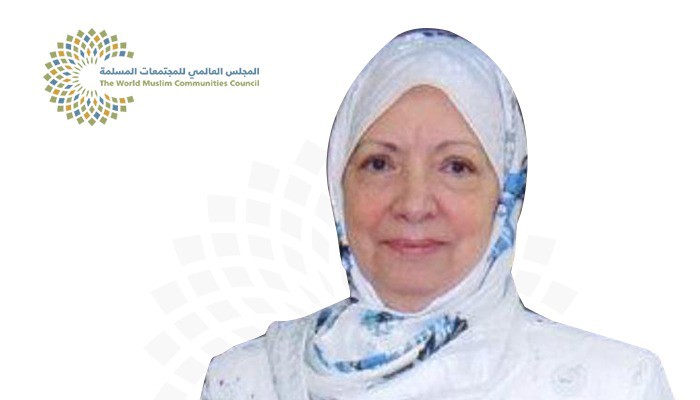 Dr. Fawzia Ashmawy: Western Curriculum Must Revised
Dr. Fawzia Ashmawy, President of the European Muslim Women Forum in Switzerland, presented a comprehensive overview of the image of Islam in the school curricula in the Western world, and called for revised it by correcting the image of Islam and Muslims, and clearing the minds of Europeans from false information about our true religion. She said the Western curriculum should not interest only in military history and wars, but it have to focus on universal values ​​such as peace, love, coexistence, respect for human rights and environment, and fighting viruses.
Ashmawy explained, during a virtual lecture entitled "Image of Islam and Muslims in Western School Curricula", organized by the World Muslim Communities Council, on Tuesday, November 24, 2020, via the Council's social media pages, that the European and American curricula present a distorted image of Islamic civilization and culture, as it overlooked and underestimates the importance roles of Muslims, and ignores the contributions of Islamic scholars, such as Ibn Sina, Jabir Ibn Hayyan, Abu al-Rayhan al-Biruni and al-Khwarizmi, and others.
She emphasized that these curricula ignore the victories of Muslims and facts of history and science, distort the image of Arab-Muslim warrior and link it to terrorism, as well as presenting a distorted image of Muslim women.
The president of the European Muslim Women Forum in Switzerland added: "Islam is a religion of peace, and our greetings are peace be upon you. Prophet Mohamed (PBUH) is the first social reformer who advocated for human rights."
It is noteworthy that the World Muslim Communities Council is an international non-governmental organization, headquartered in the UAE capital Abu Dhabi. It is considered a think tank to rationalize organizations and societies working in Muslim societies, renew their thinking and improve their performance in order to achieve one goal; The integration of Muslim societies in their countries, in a way that their members realize the perfection of citizenship and complete affiliation with the Islamic religion.
The council seeks, through holding dozens of virtual conferences, seminars and activities, to localize the concepts of religious, ethnic and cultural pluralism, in a manner that preserves human dignity and respect for his beliefs, and establishes the values ​​of moderation, dialogue, tolerance and belonging to the homelands.
Related Topics