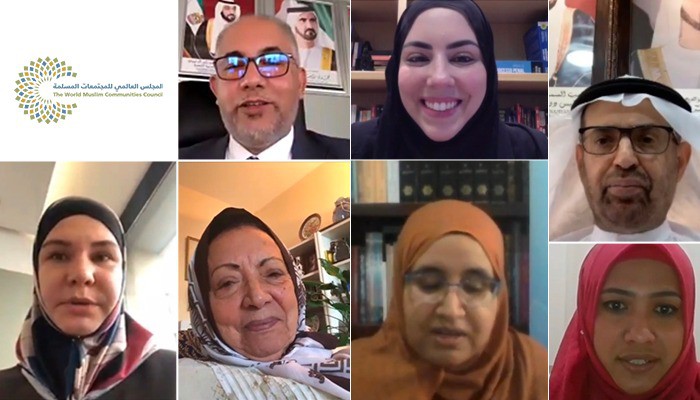 "Initiatives to Correct Image of Muslim Women in Media" Calls for Creation Database of Women Leaders
On Sunday, October 11, 2020, the World Muslim Communities Council organized virtual conference "Initiatives to Correct Image of Muslim Women in Media", with the participation of a group of leading Muslim women from different countries, who discussed ways to enhance the role and empowerment of women in society, and to activate initiatives that develop society. The conference was held at 9 am GMT, via Zoom and the council's social media pages.
In his opening speech to the conference, His Excellency Dr. Ali Rashid Al-Nuaimi, Chairman of the World Muslim Communities Council, said that throughout history, Muslim women have not received the image they deserve or the coverage that expresses their true role in society, stressing that Islamic history is full of the achievements of Muslim women scholars in Islamic law and other sciences, but now we wittness a discourse that mentions women in terms of victimhood in comparison with men.
His Excellency called for the need to pay attention to awareness campaigns to highlight the achievements of women in general, not just Muslim women, expressing this with an example of Nobel Prize winners who are considered a model for women in general and for Muslim women in particular. He is stressing that there is nothing hindering Muslim women to excel.
Al-Nuaimi stated the need to work to highlight the roles of successful women in Muslim societies, as well as to create initiatives to build a database on Muslim women in every place and sector to be the model for future generations, "thus will opening new horizons for Muslim women who contribute creatively to building and developing their societies," he add.
Dr. Mohamed Bachari, Secretary-General of the World Muslim Communities Council, said that Muslim women are among the segments whose image has been distorted in the service of the theory of confrontation that aim to charge Muslims with the mistakes of the past and extremist groups. He said that women have suffered from masculine culture that aimed to perpetuate stereotypes and inferiority, as well as negative practices and honor crimes against women that have been perpetuated by TV series, quotes and negative images against Eastern women.
Bachary called for work to correct religious discourse and tribal system, enhance the role and status of women, intensify work on reviewing stereotypes, correct the image of women in school curricula, as well as the need to prepare a guide for best practices for empowering women, and activate dialogue initiatives in the interest of women.
The conference sessions began under the direction of Ms. Flavia Martinelli de Medeiros, an assistant legal expert in tax law and contract analyst at the public prosecutor's offices in Brazil. She presented her paper (Is Religious Based Discrimination Law Able to Stop Negative Media Coverage of Image of Muslim Women?), in which she called for the opportunity for active participation of women in community activities and service with the aim of contributing to their formation, empowerment, and changing the negative image of them in society and the media, thus enhancing tolerance, respect and values in society.
Dr. Fawzia Ashmawy, President of the European Muslim Women Forum and a professor at the University of Geneva in Switzerland, presented a paper entitled (Effect of Negative Image of Muslim women in School Curricula and Media), in which she emphasized that school curricula in the West distort the image of women without regard to changes that happened. "Western media, serials and films that neglect the achievements of entrepreneurial woman", emphasizing the endeavor to correct the false stereotype of Muslim women by participating in television programs, studies and projects, purifying academic curricula and holding conferences with international organizations, as well as the need to include honorable models from Islamic history in the curricula.
While Dr. Natalia Tambieva, Head of the Religious Administration for the Muslims of St. Petersburg and the Leningrad Region of Russia, said in her paper (Russian Culture, Cultural and Religious Pluralism, and Feminism), that feminism and the Muslim community in Russia are trying to strengthen the role of women and realize their rights. She is emphasizing that the idea of equality between men and women is accepted in Russian society, where Muslim women have a great role, whether in the political aspect, community development, education process, charitable work or the media, explaining that Muslim women are an important part of the Islamic history of Russia, especially in education and fields that contribute in drawing picture on the tolerance of true religion.
Dr. Malika El Kettani, a university professor and coordinator of the Translation Department at the Faculty of Arts at the Euro-Mediterranean University, Fez, Morocco, said the headlines of some Spanish newspapers dealt badly with the issues of Muslim women, noted that Muslim women face a new colonial discourse that distinguishes between the north (as advanced) and the south (as backward). She is emphasizing in her paper (Muslim Women in Spanish Media... Initiatives to Overcome Stereotypes), that Spanish media is trying to correct the false stereotype of Muslim women through initiatives to incorporate correct Islamic concepts, calling for work to correct it by participating in social activities, and creating an international center for research and translation to transfer Arab and Islamic culture to the West, helping women's associations, and create a database of pioneering Muslim women in several languages.
Dr. Fatima Al-Sheikh, a doctoral researcher at the University of South Africa, designer, trainer and teacher of programs for teaching Arabic to non-speaking children in South Africa, presented a paper entitled (Role of Education in Correcting Image of Muslim Women in Media), in which she called for work to change the stereotype of women. Muslim women starting from home, school and media, as education in childhood affects the formation of personality, values, thinking and mental images. She called for paying attention to psychological and social characteristics to highlight parity and achieve the principle of succession on the earth, "women are the sisters of men", not to forget the importance of curriculum and educational through images in changing the stereotypical roles of the Muslim woman. She is explaining that the true image of Muslim woman is that she is a human being, a leader and an independent personality with unlimited capabilities, so it is "imperative to focus on thinking skills and present honorable examples of Islamic history and talk about Muslim women".
Hajjah Leah Al-Qassar, anchor in Muslim Community Radio in Australia, presented the experience of tolerance and pluralism in Australia in her paper (How has the strong presence of Muslim women in Australian society helped? What are the initiatives of Australian Muslim community institutions in accepting women?). She is stressing the need to clarify the true image of Muslim women, highlighting their courage, determination, and service for the sake of their family and society. She is explaining their efforts in radio programs to promote moderation in Islam, consecrate constructive culture and good citizenship, encourage people to adhere to the law, advance education policies and encourage education and coexistence.
It is noteworthy that the World Muslim Communities Council is an international non-governmental organization, headquartered in the UAE capital Abu Dhabi. It is considered a think tank to rationalize organizations and societies working in Muslim societies, renew their thinking and improve their performance in order to achieve one goal; The integration of Muslim societies in their countries, in a way that their members realize the perfection of citizenship and complete affiliation with the Islamic religion.
The council seeks, through holding dozens of virtual conferences, seminars and activities, to localize the concepts of religious, ethnic and cultural pluralism, in a manner that preserves human dignity and respect for his beliefs, and establishes the values of moderation, dialogue, tolerance and belonging to the homelands.
Related Topics