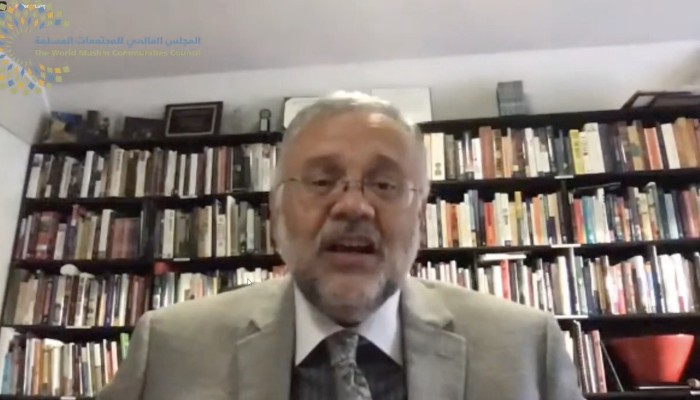 Virtual Lecture "Peace and Coexistence".. Ambassador Ebrahim Rasool: Mandela Allow us Practice our Islamic Rituals without Fear.
On Sunday, 20 September 2020, The World Muslim Communities Council held a virtual lecture entitled "Peace and Coexistence", in which His Excellency Ebrahim Rasool, Member of Parliament of South Africa and former Ambassador to the United Nations and the United States.
His Excellency said, in the lecture, which was carried on the Zoom and the Council's social media pages, that the history of Islam in South Africa extends for more than 350 years, as the first Muslim settled in the capital Cape Town in 1657 AD, explaining that Islam was banned for a century and a half, but it developed with a deep spiritual sense in an intense political context.
He added, "As a Muslim society, we embody the concept of fidelity, following the example of our noble prophet (the honest and sincere). Before spreading our message, we must win the confidence of the people."
He recalled the accomplishments of Leader Nelson Mandela to promote peace and coexistence, saying that Mandela instilled in the Muslim community of South Africa the values to think about the future, allow them live their religion and practice their rituals without fear, also taught them balance and not demonizing the enemy, and that apartheid is a system not just an individual.
His Excellency called to prioritize helping others and eliminate injustice, and for a balance between the religious values, traditions and culture of each country, and seeking to revive the strength of the Islamic nation by returning to the great civilization.
Rasool concluded his virtual lecture with six conditions that explain the meaning of the space of testimony (dar al-shahada), which are coexistence (integration and unification), identity (belonging to religion), loyalty to the homeland (citizenship), secularism (relationship between religion and the state), the balance between religion and the practice of ritual, and consistency in requirements.
It is noteworthy that the World Muslim Communities Council is an international non-governmental organization, headquartered in the UAE capital Abu Dhabi. It is considered a think tank to rationalize organizations and societies working in Muslim societies, renew their thinking and improve their performance in order to achieve one goal; the integration of Muslim societies in their countries, in a way that their members realize the perfection of citizenship and complete affiliation with the Islamic religion.
The council seeks, through holding dozens of virtual conferences, seminars and activities, to localize the concepts of religious, ethnic and cultural pluralism, in a manner that preserves human dignity and respect for his beliefs, and establishes the values ​​of moderation, dialogue, tolerance and belonging to the homelands.
Related Topics