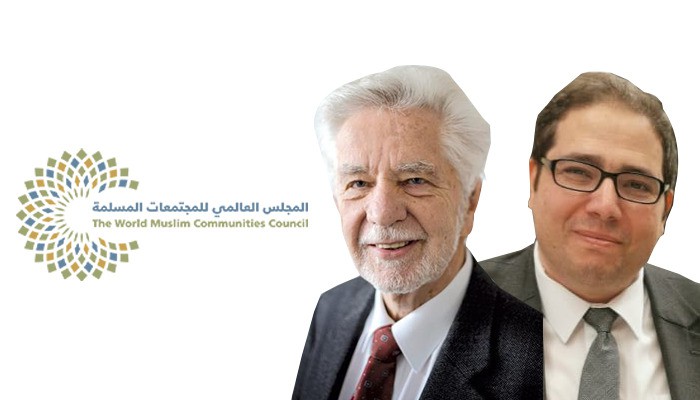 The World Muslim Communities Council organizes a lecture entitled "Side by side Against Racism"
The World Muslim Communities Council organized, on Monday April 5, 2021, a virtual lecture entitled "Side by side Against Racism", in which Mr. Abdassmad El-Yazidi, Secretary General of the Supreme Council of Muslims in Germany, and Dr. Jürgen Miksch, Director of the Ibrahimi Forum in Germany, spoke via the Council's social media pages.
Mr. Abdassmad El-Yazidi, Secretary-General of the Supreme Council of Muslims in Germany, said that the Supreme Council of Muslims in Germany frames and coordinates the work of German Islamic institutions, stressing that the Council aims to achieve prosperity, coexistence and mutual respect in society without discrimination. He is stressing that "we are all Germans and we serve our homeland with dedication and sincerely, and our religious identity does not conflict with national identity".
He added, "We are part of society and we have an intense presence, seeking to protect the homeland and preserve German values."
El-Yazidi emphasized that the Ibrahimi Forum was contained Jewish, Christian and Islamic institutions, with the aim of combating extremism and racism, to spreading peace in society, pointing to the existence of 300 Islamic centers affiliated with the Council from various backgrounds.
El-Yazidi explained that Germany is a country that respects minorities and establishes peace, coexistence and pluralism to confront racism, noting that the Supreme Council of Muslims in Germany, the Abrahamic Forum, and Side by Side Foundation, are all institutions that have a positive role in confronting racism and Islamophobia.
Mr. Jürgen Miksch, Director of the Abrahamic Forum in Germany, also indicated in his speech that the Abrahamic Forum was established in 2001 with the aim of achieving interfaith dialogue and coexistence, to overcome religious differences, and participating in community activities, to achieve cooperation in society.
He added, "Our goal is to strengthen common denominators between religions, and to enhance dialogue between followers of religions ... We are working on community initiatives to establish various activities at the national level and community service."
Miksch emphasized their use of religious standpoint to warn about the need to preserve the environment from a religious through the Religions and Biodiversity Project supported by the German Ministry of Environment, as well as work together to strengthen relations between the three religions. He is calling on other religions to participate in religious coexistence, stressing on the most important challenges that they face, such as the difficulty of obtaining financial support, and the racist movements that active in German society.
It is noteworthy that the World Muslim Communities Council is an international non-governmental organization, headquartered in the UAE capital Abu Dhabi. It is considered a think tank to rationalize organizations and societies working in Muslim societies, renew their thinking and improve their performance in order to achieve one goal; The integration of Muslim societies in their countries, in a way that their members realize the perfection of citizenship and complete affiliation with the Islamic religion. The council seeks, through holding dozens of virtual conferences, seminars and activities, to localize the concepts of religious, ethnic and cultural pluralism, in a manner that preserves human dignity and respect for his beliefs, and establishes the values ​​of moderation, dialogue, tolerance and belonging to the homelands.
Related Topics