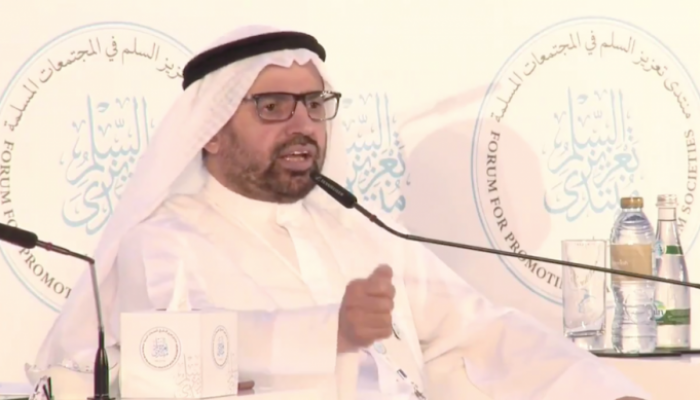 Head of the World Muslim Communities Council: The national state is the state of salvation for the advancement of humanity
HE Dr. Ali Rashid Al Nuaimi, head of the World Muslim Communities Council, said on Thursday that the national state is a reality and is a state of salvation in the advancement of the human destiny. He stressed that scholars must boldly and courageously speak about various issues, matters, challenges and preparing societies.
The head of the World Muslim Communities Council said during the fifth activity of the Forum to promote peace in Muslim communities in the UAE capital city, Abu Dhabi: "For decades, there was a kind of intellectual terrorism that dominated our minds and intimidated our scholars and created a vacuum exploited by extremist groups to take the minds of the nation".
He pointed out that the concept of the national state is carefully addressed by scholars because there are beliefs that the state of the Caliphate should remain. He stressed the importance of making a step towards developing these concepts and keeping pace with the changes, which obliges our scholars to play their role to establish a national state that respects all.
Dr. Ali Rashid Al Nuaimi stressed the need for scholars to confront courageously the concepts of the house of war and the house of peace to promote the concept of tolerant citizenship of humanity.
He also emphasized the clarification of the issue of the national state everywhere with our educational and media institutions and state institutions.
The head of the World Muslim communities Council called to invest in youth and framing them to be an effective tool in their homelands and promote the idea of national affiliation to them.
The activities of the 5th Forum for the Promotion of Peace in Muslim Communities in Abu Dhabi was launched under the theme "The Curiosity alliance - An Opportunity for World Peace", which will last for three days.
Related Topics