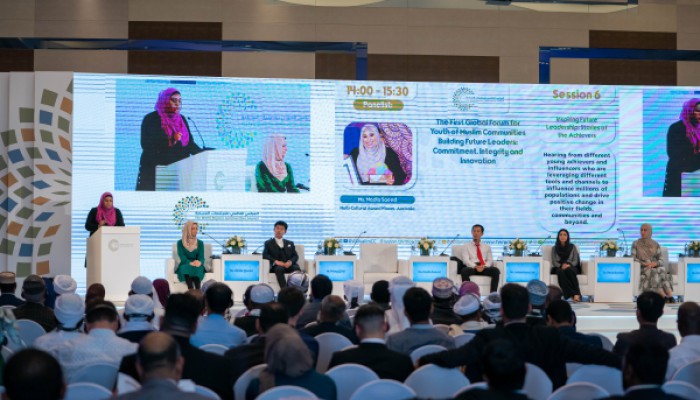 The conclusion of the first day's sessions of the First Global Forum for Youth of Muslim Communities
The first Global Forum for Youth of Muslim has concluded on Sunday, the sessions of its second and final day in the Emirati capital city Abu Dhabi.

Dr. Mohammed Bechari, Secretary-General of the World Muslim Communities Council stressed that the Muslim communities are replete with scientific competencies that have been able to combine originality and catching-up with modernism.
The World Muslim Communities Council seeks to establish a specific jurisprudence that would perfectly suit Muslim communities.
He added in the fourth session of the Forum entitled "New Approaches to Islamic Jurisprudence, Education and Etiquette" that the World Muslim Communities Council seeks to establish a specific jurisprudence that would perfectly suit Muslim communities and the basic principle is to think about creating an easy reference for drawing up the loyalty to countries and nations.
He has explained that the renewal in religious discourse within Muslim communities requires renewal in extracting the jurisprudential provisions, rules, and foundations, as well as we seek to create agreed-upon legal instruments and tools for the youth of the future.
Bechari stressed that we must achieve this formula: How can a Muslim be zealous for his religion and believe in his homeland at the same time? These are the most important challenges facing Muslim world nowadays.
He stressed also that we need to formulate a modern Islamic discourse that is firmly rooted in its origins and constants, but which keeps in harmony with the changes of Muslim communities around the world.
Mr. Thapelo Amad, Legislative councillor in the municipality of Johannesburg, South Africa, said on his part: "God shows us that we remain humans before becoming tribes' individuals, god created us as male and female, nations, peoples and tribes, and we have a third race, digital kind, which is Cyber Space."
He added "We have to look at the gap between the third world countries and the rest of the world, not only the economic and technologic aspect, but from the aspect of social revolutions.
Mr. Thapelo Amad has emphasized that the Muslims in South Africa are facing different challenges, for instance, the computer revolution which increases the global gap.
He pointed out that the robots shall replace many functions that can be performed manually in the fourth revolution and practicing life and religious rituals becomes costly when the basics of life are absent.
Dr. Rustom Nurgaliev, Secretary-General of the Council of Ulama, Republic of Tatarstan - and Vice President of the Islamic University of Russia, said that the scholar Haroun bin Bahaa Al-Din Al-Qadhani, who was known by the name Shihab Al-Din Al-Marjani, was distinguished in his keenness and diligence, as he translated the language of books from Persian to Arabic. Al-Marjani has also changed curricula in Russia, so he was not only interested in Islamic sciences, but also in mathematics, history and science.
Al-Marjani was a free man, and this was evident in his attitude towards ijtihad, and his vision was that no person is infallible indicating that Al-Marjani has books and publications in a number of sciences, including medicine, music, and literature, and he was a reformer.
Al-Marjani called for diligence and in-depth reflection, while preserving the rules of Sharia.
Dr. Rustom Nurgaliev emphasized that the creativity of Al-Marjani and its continuous effect has been and still there in its homeland and beyond.
Dr. Imam Islam Uddin, lecturer of Islamic Law, Academy Islamia, United Kingdom, said on his part that 3 million Muslims existed In Britain from 50 or 60 years ago and they are fully integrated with our British identity. He added that as Muslims in Britain are considered a minority, but our voice is loud and heard. We occupy various positions in the country and Islam is one of the most rapid spreading religions in Britain.
He said: "We are keen to be part of the British country and we seek mediation and resolve conflicts in the framework of the British law. We seek drafting family law among British Muslims, therefore we are settling down to adapt and live wherever we are."
Youssef Lenvest, Business Consultant, Harvard University, USA, has said" I was for so long looking forward to establishing a new approach to Sharia and jurisprudence, and I call for resorting to history that may provide us with so many solutions.
He pointed out that the literature of difference is one of so many literatures that we must develop in our communities; this is what our scholars practiced in the past, and this is what Sheikh Abdullah bin Baih taught me to do. He added: "I remember that literature of difference is not based only on my perception of others, but also how I perceive myself and what we have to consider is that the difference is not bad as long as we preserve the principles of Sharia.
Youssef Lenvest assured that we have to think about how to focus on correcting mistakes and dealing with them, explaining that literature is of great importance in society, and when we think about future challenges, it is mandatory to think about past events.
Professor Jacky Yero Ying, Senior Fellow at Starr, Nanobio Laboratory and CEO, Institute of Bioengineering and Nanotechnology (2003-2018), Singapore, said on his part that the Nanotechnology allow us to make small molecules to bypass the idea of digesting our medicine, as it can be used to provide insulin by mouth.
He added in the fifth session of the forum under the title "Innovation, Entrepreneurship and Philanthropy: Building New Generation of Muslim Leaders" that the clinical trials have been begun in 2010 and we had interesting results; insulin accounts for a third of the medicines today.
He pointed out to another application of the Nano, which is cancer; stressing that we have to select the problems that we have to solve, especially those which represent a great challenge for us. Explaining that

we must extract materials and compounds carrying the medicine to take advantage of the natural materials that God created and harnessed for us, saying: "We are working on a pimp for cancer of the bladder, intestine and pancreas, which costs a lot but offers a promising solution to the disease. Adding that the important thing is that we should not only work with large companies, but also protect youth as well as we cooperate nowadays with young people and their teachers in order encourage them to work in our laboratory.
Jacky Yero Ying said: "we are cooperating with a number of schools for this purpose and we have more than 3,000 students. Our goal is to be entrepreneurs, to see technology being used, and to support research and financing that would turn clinical trials into commercial forms and then marketing them."
- It is important to have research funding along with marketing and production; therefore, we provide our laboratories and hospitals with all kinds of support.
Professor Muhammad Haroon, Editor-in-chief of the Africa Research Journal at Duke University, and Editor-in-chief of the Cape Town University's Journal on Islam in Africa (ARIA), South Africa, stressed that ways, in which we become proactive by providing advice and guidance to others, must be defined , especially to those of old age,
He added: "We are talking about the environment in which we work because we live in a multi-cultural, multi-religious and multi-lingual environment. We are all, no matter how much different we are, constitute an integral part of this world.
He explained that we have to focus on two dimensions, namely entrepreneurship and charitable work since the Sunnah and the biography of the Prophet urges us to give, rather than just take.
Muhammad Haroon said: "The neighbour has rights, just as your children have rights; we must preserve our relations with the followers of other religions and search for commonalities. If we Muslims speak perfectly, so we have to show certain behaviours and attitudes.
He added: "The idea of charitable work is that there is a person who gives or provides benefits to others, and we know that it is one the most important and distinguished dimensions for Muslims which we call charity, and we have been brought up that way. We have to show Islamic behaviour, not just to be Muslims by name, but also to act accordingly. He assured that the goal of ongoing charity is that you continue receiving reward out from it.
Ms. Lisa Vogl, International fashion photographer and Co-founder of Verona Collection, USA, said on her part: "My success was not easy. During the launch period of my trademark, I had to deal with a domestic violence, which forced me to flee from it, divorce and take care for two children."
She pointed out that she acquired Bachelor of Arts in business and worked in Chicago in 2009, but the good income did not suffice me to be happy.
She added that she began to delve deeper into the meaning of the hijab after working on a two-minute documentary about the reason behind wearing Muslim women the hijab and meeting with many Muslim women. I was learning to edit the video and what began as a career path that changed the course of my life.
She said: "I did not want to join the world of fashion to make billions by using the bodies of women as a commodity. The challenge was to make a choice in accordance with the Sharia in this world."
She added: "We launched Verona Collection in 2018 and we launched many brands for veiled women that changed the public view of Muslim women in America and changed the perception of Muslim women as compelling to wear hijab and being weak."
She said: "In Verona, we were keen to show our identity to the world and this was the secret of our success, as all products were sold after a week after their presentation and we opened branches in Britain and in a number of countries."
Lisa stressed that you do not always have to secure all resources to succeed. Rather, you can use the available resources to succeed. When you fail with something new, you should not stop, but try with something else and try again. You have to believe in your identity, no matter where you come from.
Dr. Abdullah Han Guangyu, Co-founder and Qitmeer Block-Chain Netwerk, China, has stressed that everything related to Blockchain supports trust and justice and we do not see anything that opposes the principles of Islamic economics, unlike using crypto currencies.
He wondered how can we actually integrate block-Chain Netwerk with Islamic economics? through so-called transparent contracts, saying: "We have 700 Islamic banks; they do not have an opportunity to talk to each other and cross-border coordination is not yet desirable."
He explained that if we could create an infrastructure for digital transfers, we would save a lot of money and Block-Chain Netwerk and Digital Portfolios can provide a solution to the financial payments for the young generation that is spreading the use of social media.
Nwajaba Mohsen Kadoyo, Founder of the Muslim Allied Youth Foundation and Representative of the Uganda National Dialogue Coordination Team, Uganda, emphasized on his part that we have to understand the challenges faced by Muslims in this digital era in order to deal with them in a thoroughly-critical manner and provide creative solutions for all economic problems in order for us to ensure our youth's interaction with technology, creativity and innovation must be our focus.
He added that there are no seven golden rules when it comes to the youth's needs and challenges, since each context has a certain treatment that may be suitable for it. When we talk about the official era, we are talking about socially-connected communities; therefore, we have trained young people by developing their skills of leadership and communication.
Kadoyo said: "Enhancing life skills amongst young people must be an approach undertaken by young people themselves, so we have to let them take the lead in such matters
- We must have the courage and provide a positive space for intergenerational interaction, which would be wonderful space; we have to discuss and provide them with what would sustainably benefit them.
Mr. Wang Qifei, Arabic calligraphy, China, has emphasized that the pen is one of the tools for writing, disseminating science and writing civilization. The Chinese population of more than 20 million has developed a distinct civilization since Islam reached China.
He explained in the sixth session of the forum under the title:" Inspiring Future Leadership: Stories of the Achievers" that he acquired a license in seven calligraphies and will not stop learning Arabic script. Moreover, he became a calligrapher and a teacher of Arabic calligraphy in China. A number of universities in the capital, Beijing, have invited me to give lectures on the art of Arabic calligraphy. He added that in one of the famous cities of China for making ceramics, I provided assistance in introducing Islamic art and Arabic calligraphy into these ceramic tools, which helps in its proliferation. He assured that he is looking forward to introducing the Arabic script blending with Chinese culture around the world in the future.
Mrs. Nadia Saeed, Winner of the Multicultural Award, Australia, has said that she attended the Islamic University in Espern, learned about Islam and was taught by a wide number of imams and she was always eager to be the voice of change for youth; therefore, I participated in a number of youth-led initiatives.
She explained that she joined the university and worked in the Australian Humanitarian Relief Organization, until she become toady one member of the Islamic Council in Queensland, which is concerned with Muslim affairs.
She added: "We as young people do not want our platform to be independent, but rather to cooperate with the greatest influencers in our community, since we know for sure that we will not be able to make a difference without the wisdom of our elders. We cannot reach an agreement with the youth unless we talk to them by their own language, and from the nature of my work, I can say that many young people listen better to other young people of their age.
Mrs. Hena Ibrahim, Board Member, Med Global, USA, has stressed that the main principles of Islam revolve around serving others and it did not take her much time to find the verses and hadiths that urge to help others. She pointed out that serving others in Islam is not a responsibility but an obligation an our life at the service of others does not require that it be through travel to refugee camps.
Mrs Esra Doğanay, Expert in Water and Environmental Engineering, Germany, has explained on her part that "Noor Energy" is the first Islamic institution that students deal with. It aims at connecting the Muslim community with clean sources of energy as well as with German society.
She added: "We are a multinational and multicultural team with a diverse range of disciplines, including science, journalists, engineers and teachers.
She pointed out that the solar plant of the mosque is close to Frankfurt and the solar panels on the mosque reflect a positive revolution for the Muslim community, saying: "We have eco-friendly breakfast bags for the Muslims and We do not only work for Germany, but also for developing countries. Moreover, we work to provide water in a number of countries that suffer from scarcity of fresh water.
She assured that if we want to change anything in Islamic community, we must start from the mosques. Imams and schoolars must know what is going on in their communities.
The first Global Forum for Youth of Muslim Communities entitled 'Preparing the Leaders of Tomorrow.. Commitment, Integrity and Innovation' was organized by the World Muslim Communities Council started on the 7th and concluded on the 8th of December 2019, in the capital city Abu Dhabi, UAE.
The Forum serves as a platform that brings together community leaders, scholars, activists, artists, entrepreneurs and innovators to present and discuss new strategies, curricula and programs in order to conceptualize leadership development among Muslim youth in the world.
Related Topics