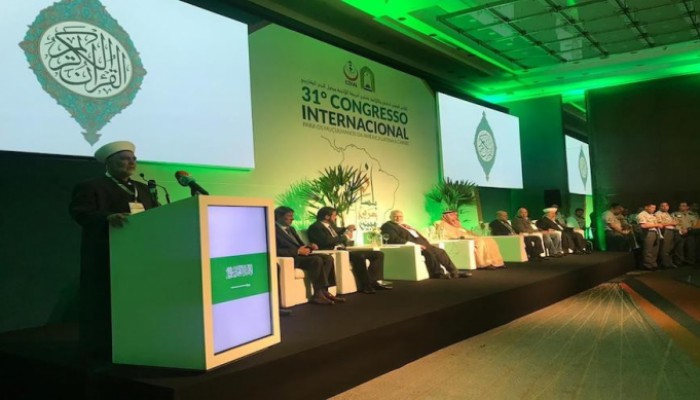 The World Muslim Communities Council is participating in the launching conference of the Latin America and Caribbean Muslims in Brazil
The Sao Paulo City of Brazil hosts with the participation of the World Muslim Communities Council the 31st International Conference of Latin America and Caribbean Muslims, from 23 to 25 November 2018.
This activity, entitled "Teaching Arabic in Latin America and the Caribbean (reality and hope)," is abound with important sessions discussing the importance of Arabic language and its place in Islam, and the reality of teaching Arabic in Latin American countries.
The Latin America and Caribbean Conference is trying over three days to showcase the pioneering efforts in the service of the Arabic language, as well as discussion of the scientific and professional standards of the model environment in teaching Arabic to non-Arabic speakers with consideration of the responsibility of the Arab communities in order to raise awareness of the cause of Jerusalem and the protection of its sanctities.
Several delegations from various countries have participated in the conference; including Dar Al Fatwa in Lebanon, Dar Al-Iftaa in Jordan and a delegation from the Palestinian Presidency represented by the section of Religious Affairs and Islamic Relations, the representative of the Islamic Educational, Scientific and Cultural Organization (ISESCO), Dr. Salah El Ja'farawi, as well as the advocates and heads of Islamic centers in Brazil, Latin America, the Caribbean and Central America.
The conference witnesses also the participation of representatives of the Arab and Islamic diplomatic corps in Brazil and the representatives of the Brazilian government.
The conference is organized by the Center for Islamic Call for Latin America and the Caribbean, the Ministry of Islamic Affairs, Dawah and Guidance and the King Abdullah International Center for Arabic language.
Related Topics