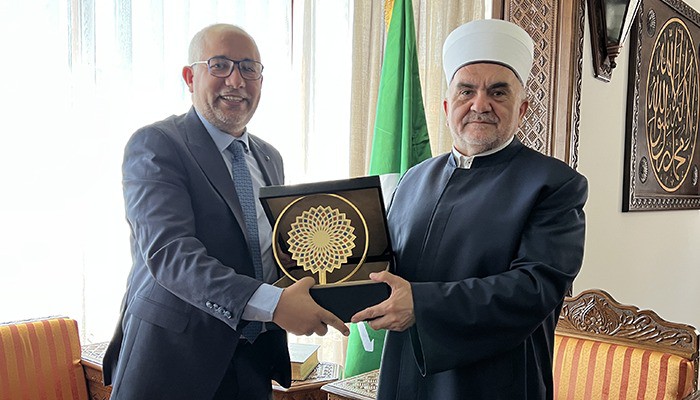 Grand Mufti of Serbia Welcomes Secretary-General at Headquarters of Administration*
His Eminence Sheikh Dr. Mouloud Dodić, Grand Mufti of the Republic of Serbia, and President of the Islamic Administration of Serbia welcomed Dr. Mohamed Bechari, Secretary-General of The World Muslim Communities Council, on Monday, June 27, 2022, at the headquarters of the Administration in Novi Pazar, capital of the Sandžak region, in the Republic of Serbia, during the visit of Dr. Bechari to some Balkan countries.
He was welcomed by the directors of the main institutions of the Administration, such as the Directorate of Islamic Centers in the capital Belgrade, the Supreme Council of Islamic Affairs, the College of Islamic Studies, the Directorate of Imams and Preachers, the Directorate of Charitable and Humanitarian Works, the Directorate of Kindergartens, the Directorate of Holy Quran Memorization Centers (24 centers), the Directorate of Endowments, the Directorate of Information, and the Directorate of Islamic Schools and Secondary Schools.
The Secretary-General of the Council was briefed on the tasks and roles of each directorate in spreading awareness among the Muslims of Serbia, and the general Bosniaks in European countries and the USA, through programs aimed at:
- Presenting Islam in the correct manner to the children of Muslims
- Maintaining the continuity of religion among Muslims
- Raising Muslim youth on the values ​​of tolerance and coexistence
- Spreading Islamic culture and the Arabic language
- Helping the needy by opening charitable restaurants that benefit more than 2,000 Muslims daily, providing groceries, contributing sacrifices during Eid al-Adha, and others.
- Training of imams and preachers
- Islamic endowments to ensure the continuity of Islamic activities.
Dr. Dodić thanked Dr. Bechari for his role in communicating with the issues of Muslim communities, and the keenness of The World Muslim Communities Council, and its Chairman, His Excellency Dr. Ali Al-Nuaimi, for the support in achieving the civilized message of the Council.
At the end of the meeting, the two sides exchanged memorial shields, then the delegation visited some institutions, and the tomb of the late Sheikh Muamer Zukorlić, the former Mufti and Deputy Speaker of the Serbian Parliament.
The World Muslim Communities Council is an international non-governmental organization that was established on May 8, 2018 in Abu Dhabi. It includes more than 900 Islamic organizations and institutions from 142 countries. It is a think tank for helping organizations and associations operating in Muslim communities, renewing their thinking, improving their performance, and coordinating it's joint work.
Related Topics