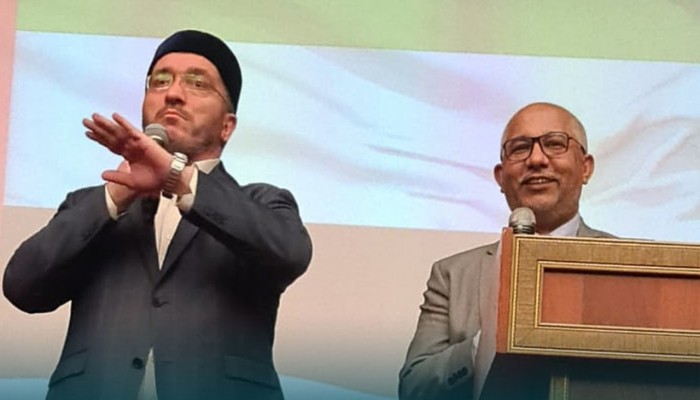 The Secretary-General of the Council During "Youth Conference": It is Time for Youth to Engage in Development Programs
Dr. Mohamed Bechari, Secretary-General of the World Council of Muslim Communities, delivered the Council's speech during his participation in the Youth Conference held in the city of Makhachkula, Dagestan, Russia, in 19-23 May.
Dr. Bechari said that Islam cares about youth, as the Prophet, may Allah bless him and grant him peace, said, "I was helped by youth." This is evidence of the ability of young people to contribute to the development of the country and build its future, stressing that the United Nations defined "youth" as persons between the ages of 15 and 24 years, a definition that arose in the context of preparations for the International Year of Youth (1985), and was approved by the General Assembly in its resolution 36/28 of 1981. All United Nations statistics on youth are based on this definition.
Bechari added that Article 1 of the United Nations Convention on the Rights of the Child defines persons up to the age of 18 as "children", and it was hoped that the Convention would provide protection and rights to the largest age group at that time, especially since there was no similar document on youth rights, noting that There are 1.2 billion young people between the ages of 15 and 24, representing 16 percent of the world's population. The number of young people is expected to increase by 7 percent by 2030, the target date for achieving the Sustainable Development Goals, to reach about 1.3 billion young men and women.
The Secretary-General of The World Muslim Communities Council pointed out that our contemporary world is experiencing geopolitical events today that have affected social cohesion, forcing us to think about drawing the future of our countries and peoples within a framework of balance between the conflicting poles.
Bechari stressed that youth have an important and essential role in development, based on participation between members of society and groups, and aims primarily at development through organizing the efforts and capabilities of individuals, making structural and radical changes in societies, and contributing to nation-building. It is a multi-dimensional development, economic, social, cultural and political.
The Secretary-General of the Council said that "the time has come for our youth to engage in development programs, as young people are a source of effective planning and evaluation, and they are the most receptive group to change, the most willing to accept the new, deal with it, and be creative, and the most able to adapt easily without confusion, which makes their role essential in bringing about change," he said, noting that the ambition of young people drives the process of change and progress, and they are the foundation of change and the force capable of bringing about it.
Related Topics