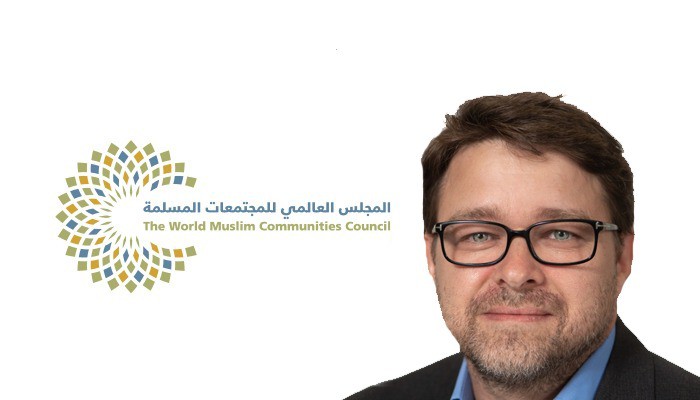 Virtual lecture "Qur'an by American Sounds"
The World Muslim Communities Council organized, on Saturday, February 27 2021, a virtual lecture entitled (Qur'an by American Sounds and Meanings), in which Dr. Timur R. Yuskaev, Professor of Contemporary Islam and Editor of the Islamic World Magazine in the USA, spoke via the Council's social media pages.

Dr. Yuskaev focused on the great influence of the Noble Qur'an, stressing that it is a book for all humankind, as it touches the hearts, senses and thought as inspiring voice that has a great psychological impact on human feelings.

He explained that the Qur'an is a continuous flow of meanings that helps to understand the experiences and the relationship between Allah and us. It addresses people in houses of worship to achieve a response, and provides the vital system of sounds during life stages. He is calling for the awareness of its translation into other languages ​​to understand it more.

Dr. Taimur elaborated on the biography of the American imam and scientist Warith al-Din Mohamed, who formed a memory for Africans by focusing on the voice and explaining the meanings of the Noble Qur'an in America, as well as his prominent role in clarifying the ambiguity of the meanings and sounds by how to control the slow and speed when we read it.

He emphasized that Imam Warith al-Din linked the meanings of the Qur'an and its connotations to the life of Africans in America, stressing its influence on the lives of Muslims and the American Muslim community.

It is noteworthy that the World Muslim Communities Council is an international non-governmental organization, headquartered in the UAE capital Abu Dhabi. It is considered a think tank to rationalize organizations and societies working in Muslim societies, renew their thinking and improve their performance in order to achieve one goal; The integration of Muslim societies in their countries, in a way that their members realize the perfection of citizenship and complete affiliation with the Islamic religion.

The council seeks, through holding dozens of virtual conferences, seminars and activities, to localize the concepts of religious, ethnic and cultural pluralism, in a manner that preserves human dignity and respect for his beliefs, and establishes the values ​​of moderation, dialogue, tolerance and belonging to the homelands.