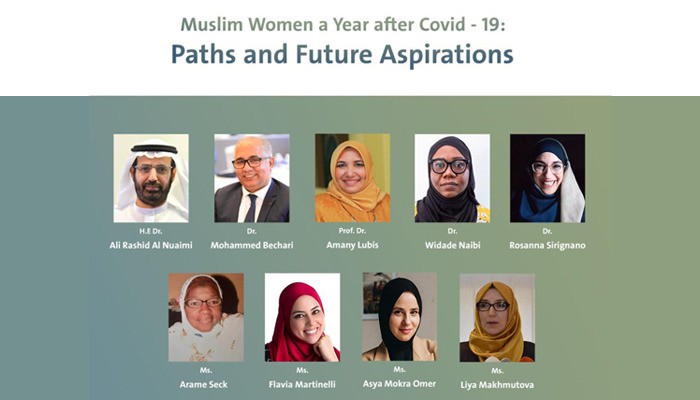 Virtual conference "Muslim Women One Year After Covid-19.. Paths and Future Aspirations"
On Monday, March 8, 2021, The World Muslim Communities Council concluded its virtual conference "Muslim Women One Year After Covid-19 ... Paths and Future Aspirations", with the participation of a group of academics, specialists, leaders, scholars and jurists from different countries, via the council's social media pages.
In his opening speech to the conference, His Excellency Dr. Ali Rashid Al-Nuaimi, Chairman of Thr World Muslim Communities Council Council, congratulated the women on the occasion of International Women's Day, which falls on the 8th of March every year, appreciating the participation of the speakers in the conference and their positive interaction in a way that enhances the status of Muslim women and corrects their image. He called for focusing on the effective participation of Muslim women in all national and international events.
His Excellency affirmed our need to change the stereotypical image of Muslim women inside and outside the Islamic world, explaining that this day concerns men and women alike, regardless of the woman's religion, nationality or race, as well as the importance of Muslim women obtaining their rights wherever, to be effective and have a positive role, and to protect this role by the power of legislation, laws and constitutions.
His Excellency Dr. Muhammad Al-Bashari, Secretary-General of The World Muslim Communities Council, congratulated all women on International Women's Day, which is considered a daily feast to celebrate the role of women and their great efforts in development and prosperity, calling for shedding light on the role of Muslim women in the educational aspect, human solidarity, dialogue and civilized communication, with societal components, stressing that the conference commemorates the International Women's Day, which a day for men and women together in a human partnership.
His Excellency added: "Every day we call for the construction of woman's status, so without her a civilized partnership cannot take place... and Muslim women have a great role in Islamic and humanitarian work in the whole world ... and we look forward to make equality between men and women a real thing that reflecting societal development and cultural progress." .
The main session of the virtual conference started under the direction of Ms. Liya Makhmutova, President of the Union of Muslim Women of the Baltic States in Europe.
In her speech, Professor Amany Lubis, President of the Sharif Hidayat Allah Islamic State University in Indonesia, said that her country has witnessed developmental and improvement of the status of women. She said that Indonesian women's issues are the gap between males and females in basic education, violence, and their weak participation in political life, confirming that Indonesian women are partners with men. The strategies for solving the problems of educational and economic empowerment of Indonesian women are represented in cultural and scientific cooperation, educational courses, institutionalization of youth activities and the qualifying those in marriage age to prevent extremism and deviation.
Dr. Widade Naibi, Director of the Ibn Battuta African Institute in Benin, indicated that Muslim women have played a great role in serving humanity, and humanity cannot advance without strengthening the role of women, as they played an important influential role in learning and health, through their purposeful and professional leadership. She is Stressing that the world focused on the role of women and how they support their societies and countries to achieve the desired development, calling for enhancing emotional awareness between spouses to improve health and marital life and face challenges.
Dr. Rosanna Sirignano, Teaching Assistant and Honorary Fellow at the University of Naples, Italy, talked about her personal experience in providing training courses for Italian Muslims and others on teaching Arabic language and culture, interpretation of the Qur'an and the Islamic methodology in education " I was surprised by the positive reaction of non-Muslims in the training course, and the impact of the Holy Quran and life of the Holy Prophet (PBUH)," said Rosanna. She is calling for atonement in Allah not in material things, and emphasizing the spiritual aspect, as Muslim women loyal to their religion and society, so she can present innovative projects in the service of their homeland and religion without fear.
Flavia Martinelli, a lawyer and founding member of the National Association of Jurists in Brazil, said that Islam grants women all their rights, so on International Women's Day we celebrate the social, economic, cultural and political achievements of women. She is saying that this day is a call to accelerate gender balance and equality, to change the stereotypical image of Muslim women in the media, as Islam emphasized strengthening the status of women, with appreciation, respect empowerment, and granting them equal rights with men without discrimination.
Ms. Asya Mokra Omar, founder and CEO of the website "Amanat", the first social network for Muslim women in Ukraine, said that status of Muslim women must be improved, especially with the outbreak of the Corona, increase in domestic violence, and shrinking quality of education and economic challenges, stressing that her website support women and their abilities through free training courses and projects that protect the rights of Muslim women under Sharia, state laws and constitutions, as well as training women to work remotely and promote their civilized rights, and the creation of a special program for adolescents to raise a new generation by securing employment and education opportunities.
At the conclusion of the conference, Ms. Arame Seck, President of the Association of Saviors to God and inspector in Arab education in Arab schools in Senegal, congratulated women on International Women's Day, which is considered the societal foundation in peace building, prosperity, development and stability. She affirmed that women are an essential element, so the more the woman is righteous, the more the world is good, and vice versa, because woman is the effective partner to the man. She is saying that Islamic societies in Senegal have played important roles in facing the Corona, whether materially, morally or logistically, while her association seeks to enhance the role of women in society and help them in work, education and life, to face challenges with the aim of positive integration.
It is noteworthy that the World Muslim Communities Council is an international non-governmental organization, headquartered in the UAE capital Abu Dhabi. It is considered a think tank to rationalize organizations and societies working in Muslim societies, renew their thinking and improve their performance in order to achieve one goal; The integration of Muslim societies in their countries, in a way that their members realize the perfection of citizenship and complete affiliation with the Islamic religion. The council seeks, through holding dozens of virtual conferences, seminars and activities, to localize the concepts of religious, ethnic and cultural pluralism, in a manner that preserves human dignity and respect for his beliefs, and establishes the values of moderation, dialogue, tolerance and belonging to the homelands.