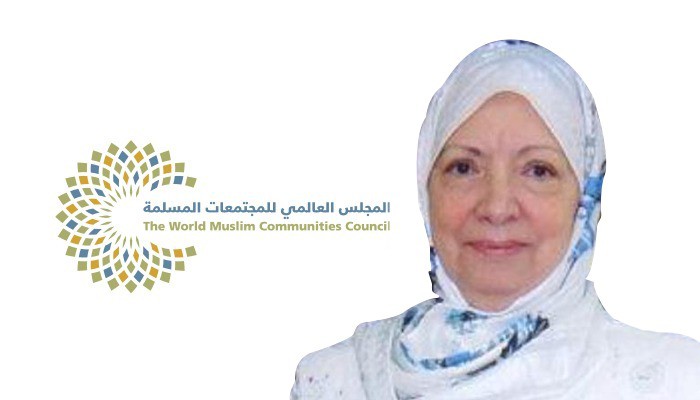 Virtual lecture "Advantages Granted by the Holy Quran to Married Divorced and Widow Women"
On Sunday, February 28, 2021, The World Muslim Communities Council organized a virtual lecture entitled (Advantages Granted by the Holy Quran to Married, Divorced and Widow Women), in which Dr. Fawzia Ashmawy, President of the European Muslim Women Forum, spoke via the council's social media pages.

Dr. Fawzia Ashmawi said that the Islamic religion guaranteed legitimate rights for Muslim women in the Holy Qur'an, whether she is married, divorced or widow, and calling for these rights to be respected, as the goal of marriage is that it is an agreement between a man and a woman to form a loving and good family that contributes to the community service.

She sid that marriage has conditions, which are propose, consent of the wife and her family, the dowry, and the declaration of marriage, while the benefits of marriage for the woman are the payment of the dowry, alimony and the deferred dowry, in addition to the good treatment, affection and mercy, as well as the man's stewardship over the woman as a responsibility and not an authority.

Dr. Fawzia Ashmawi explained the rights of the woman after divorce, including not taking her out of her home until the iddat is completed, and granting her the maintenance of the iddat and the maintenance of the pleasure, the deferred of dowry. She emphasized that the rights of widowed women is to pay the deferred dowry, and to obtain her share in the inheritance of her husband if there are or without children.

Dr. Ashmawi added that if the wife or husband is disobedient, reconciliation between them must be attempted, and if a divorce takes place, the iddat must be respected.

It is noteworthy that the World Muslim Communities Council is an international non-governmental organization, headquartered in the UAE capital Abu Dhabi. It is considered a think tank to rationalize organizations and societies working in Muslim societies, renew their thinking and improve their performance in order to achieve one goal; The integration of Muslim societies in their countries, in a way that their members realize the perfection of citizenship and complete affiliation with the Islamic religion.

The council seeks, through holding dozens of virtual conferences, seminars and activities, to localize the concepts of religious, ethnic and cultural pluralism, in a manner that preserves human dignity and respect for his beliefs, and establishes the values ​​of moderation, dialogue, tolerance and belonging to the homelands.