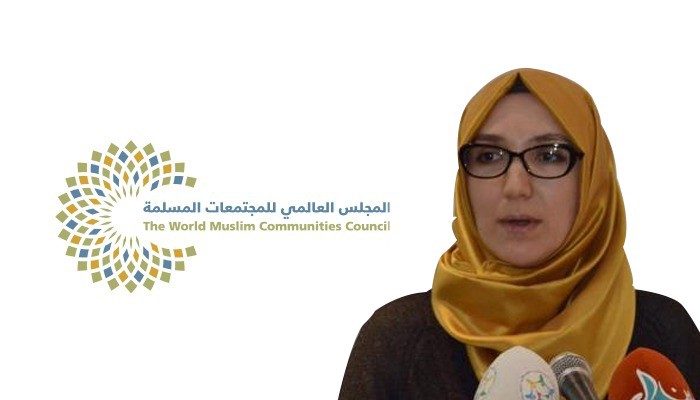 Virtual lecture "Ensuring Muslim Women Rights"
The World Muslim Communities Council organized, on Tuesday, March 2, 2021, a virtual lecture entitled (Ensuring Muslim Women Rights), in which Lia Mahmotova, President of the Federation of Muslim Women of the Baltic States, spoke via the council's social media pages.

Lia Mahmutova said that the right of Muslim women is guaranteed by their integration into their societies and countries, working with international and civil organizations, and using media to present their demands. She is stressing that Islamic institutions in Europe should pay attention to Sharia laws and consultations, especially in family and status issues.

She explained that the rights of Muslim women in Europe must be viewed from two sides: the legal and constitutional rights of Muslim women, and the religious rights. She is noting that the European constitution and laws guarantee equal rights for all people, with slight differences between the citizen and the resident.

The head of the Federation of Muslim Women of the Baltic States added: "Muslim women in Europe can, in agreement with her husband, guarantee her dowry, alimony, property value and other conditions, in the prenuptial agreement."

It is noteworthy that the World Muslim Communities Council is an international non-governmental organization, headquartered in the UAE capital Abu Dhabi. It is considered a think tank to rationalize organizations and societies working in Muslim societies, renew their thinking and improve their performance in order to achieve one goal; The integration of Muslim societies in their countries, in a way that their members realize the perfection of citizenship and complete affiliation with the Islamic religion. The council seeks, through holding dozens of virtual conferences, seminars and activities, to localize the concepts of religious, ethnic and cultural pluralism, in a manner that preserves human dignity and respect for his beliefs, and establishes the values ​​of moderation, dialogue, tolerance and belonging to the homelands.